All You Need to Know to Get Back to School!
Back to School Re-Enrollment and Residency Checks: NEW THIS YEAR - All district enrollment will be online this year. Watch for important information coming from the ISD in early July.
Residency Checks: At Korte Elementary, July 27-31, from 8:30 am to 4:00 pm; Tuesday, July 28, 8:00-8:00 pm. (Office will be closed from 11:30-12:30). If you have previously logged in to the ISD re-enrollment site and completed the information required, you will only need to bring information with you to prove residency. If you have not been able to previously complete the online information, we plan to have computers available at the school. The free or reduced lunch application will also be available on the online re-enrollment site or on the ISD web site (www.isdschools.org) under Nutrition Services. Applications completed online usually take 24 hours to process. Paper applications, once turned in, typically take 10 working days to process. During residency check week, parents will be required to present to our office staff copies of the following documents:
Copy of a current electric or gas utility statement reflecting your name and address of your residence; and
Copy of a current lease agreement reflecting your current residence, or Deed of Trust, or paid property tax receipt.
If you are new to the ISD, our Enrollment Office will be contacting you. Please call the school to give us your contact information. Other information will be required: Certified copy of child's birth certificate, Social Security card or number for child, and immunization records.
Items that will not be accepted include telephone bills, cell phone bills, credit card bills, cable bills, disconnect notices on utilities, insurance bills, etc.
Students will not be enrolled until all information regarding residency is provided.
Meet the Teacher Night will be Monday, August 10, for grades 1-5, 5:30-7:00pm. Kindergarten children and parents will have group appointments set up on this day. Teachers will be working in their rooms and students and families will have an opportunity to come to school, meet your teacher, and drop off school supplies. The event will begin in the main office hall where we will be handing out classroom assignments and location for all properly enrolled students.
First Day of School: Wednesday, August 12, for grades K-5; Breakfast and lunch will be served to children. This will be a full day of school.
Back to School & Curriculum Night: Thursday, August 27. More information will be available during residency week.
ATTENTION CAR RIDERS AND WALKERS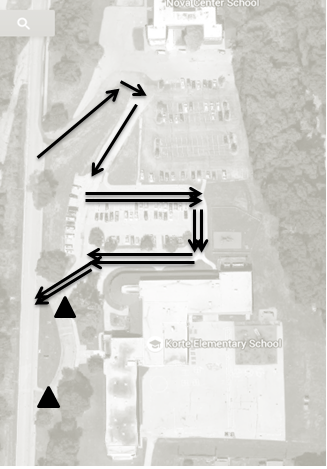 Car Riders & Walkers: PLEASE NOTE VERY HELPFUL AND IMPORTANT PROCEDURAL CHANGES IN OUR CAR RIDER DROP OFF AND END OF THE DAY DISMISSAL PROCESS. In an effort to help reduce the traffic on Hardy Avenue in our car rider line, we have reversed the direction of the line (see map above). All car rider traffic will enter the north drive on the hill from Hardy, going up the hill (stay to the right is this is two way traffic on the hill drive). Once you enter the parking lot area, it will become two lane (same/one direction) traffic towards the school to pick up or drop off children. We will use the northeast gym door as in the past. Cars will continue two lane until you exit the campus near the front circle drive onto Hardy. PLEASE NOTE: The front circle drive on Hardy will be closed from 3:30-4:15 daily to avoid traffic and safety concerns. All students who leave campus in a car will be expected to be picked up in the car rider lane only. Only those students who are walkers and actually walk off campus will be considered walkers. If you need to pick up a student between 3:30-4:15 you will need to use the car rider direction and park in the north lot to enter the building to check out a student if needed during those times.
Our Vision Statement:
We are a school and community working together, encouraging all students to reach their full potential.
Check This Out!
A Facebook page has been created for the Community surrounding and involving Korte Elementary. It has activities, reminders, and announcements concerning the school and the neighborhood. Although the page is not run by the school, it is very relevant for the families of Korte. You can like the page here: https://www.facebook.com/kortecommunity (you must be signed into Facebook to view link)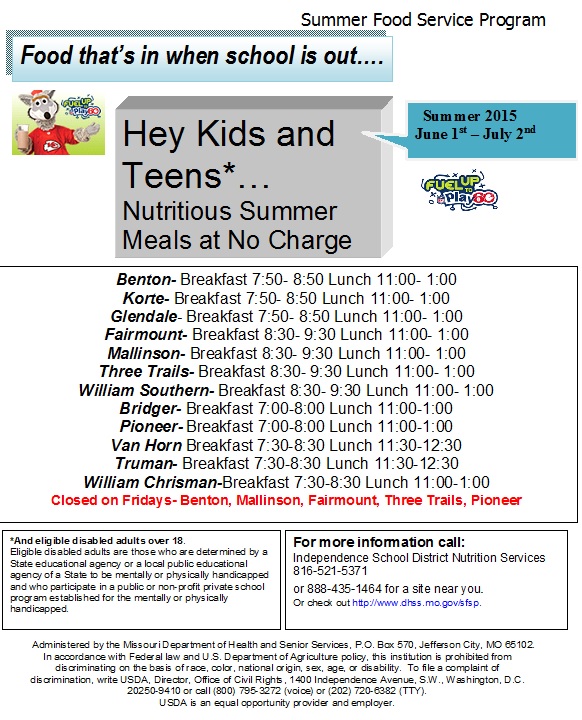 Korte Elementary Calendar
Welcome to Korte Elementary! We are proud of the work we do with our students, families and community. We invite you to be a part of Korte Elementary by visiting our website and related links regularly for updated information.
Korte Elementary School

Korte Elementary School
2437 S Hardy • Independence, MO • 64052
Start 9:00am Dismiss 3:54pm
Phone; 816.521.5430
Fax: 816.521.5641
Korte CHARACTERplus
Korte is a proud participant in the district's character education program, CHARACTERplus, a program which emphasizes positive character traits in all areas of a student's life.
August: AMBITION – to have strong determination to accomplish goals
September: RESPONSIBILITY – to be accountable for your actions
October: INTEGRITY – to do the right thing
November: CITIZENSHIP – to be a productive and responsible resident
December: COMPASSION – to understand the challenges of others and to want to do something about it
January: RESPECT – to show consideration to self and others
February: COOPERATION – to respectfully play and work with others
March: INITIATIVE – to act and make decisions on your own
April: PERSEVERANCE – to continue trying in spite of difficulties
May: SELF-CONTROL – to express your feelings in an appropriate manner
June: COURAGE – to remain strong when faced with difficulty
July: LOYALTY – to be faithful to a person, a team or an idea