Clifford H. Nowlin Middle School
Clifford H. Nowlin Middle School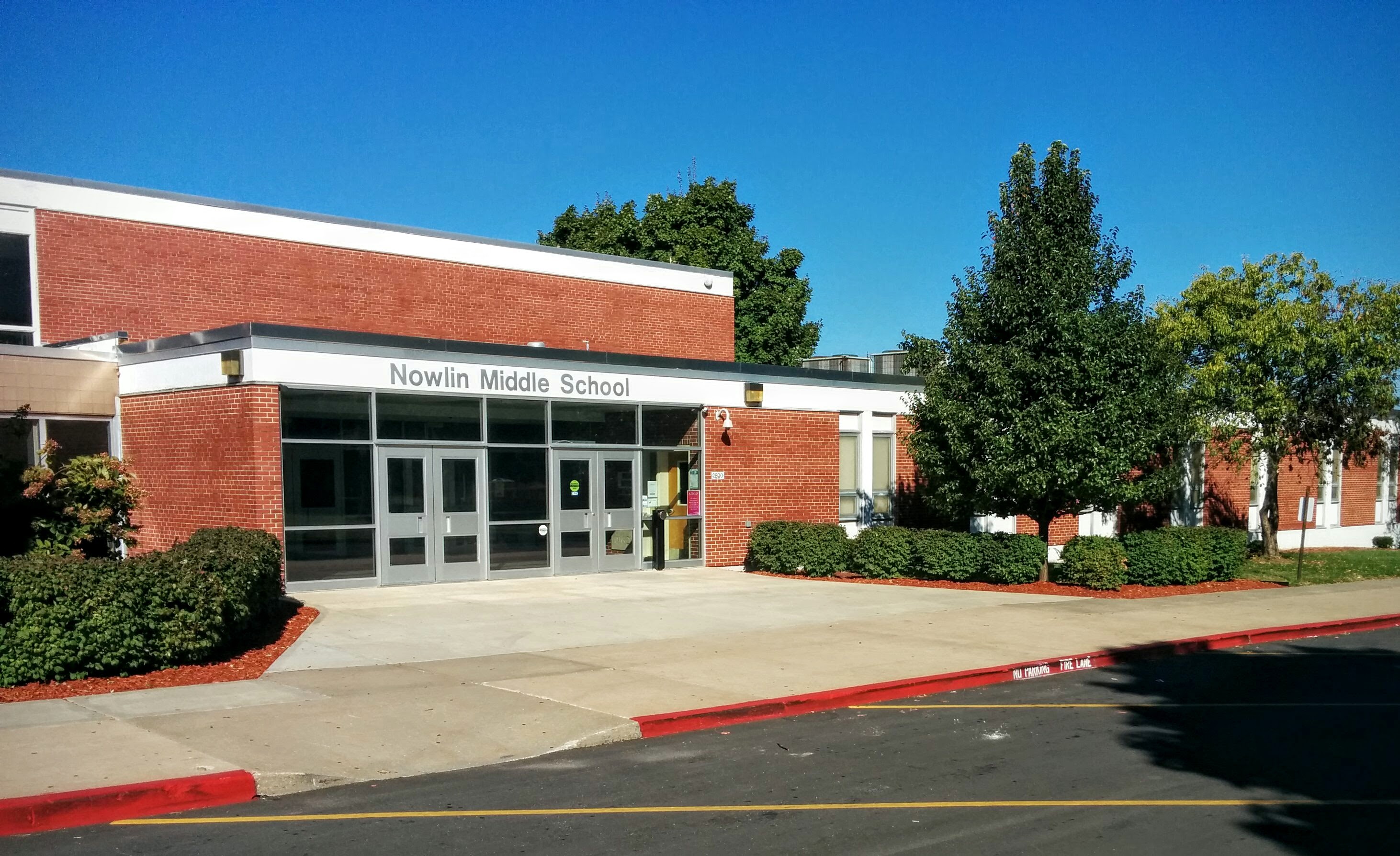 Nowlin Middle School
2800 S. Hardy
Independence, MO 64052
Phone: 816.521.5380
Fax: 816.521.5633
Mission Statement
The mission of Nowlin Middle School is to provide all students with a safe, orderly, inviting learning environment to help them achieve academic and social success.
Our Vision
We believe all students can be given the opportunities to achieve and succeed.
Believe: We believe every student will be given the opportunity to learn in a safe, orderly, accepting, and nurturing environment characterized by high expectations for all.
Achieve: As a team, staff and administration will provide all students the skills and knowledge to prepare them for their futures; academically and socially.
Succeed: We will offer all students opportunities to experience academic, athletic, and social success and will showcase their accomplishments.
About Nowlin Middle School
Welcome to the Independence School District! We are looking forward to working with you to provide your children with the very best educational opportunities possible. We believe it is important to share with you our vision and our beliefs so we can begin a dialogue with you regarding your ideas for making Nowlin Middle School the best school in Missouri.
Saturday School
Posted 9/25/15
Purpose – Students will receive extra guidance and improve their academic performance.
Time – 9am-12pm It is important that students show up by 9, but it is not a problem if they need to leave early.
Materials Needed - Just themselves
Transportation – Parent/Guardian needs to drive them
Dates for 1st Semester of Saturday School – September 26, October 10, October 24, November 7, November 21, December 5
All students are welcome!
Character Traits
Character Traits
August~AMBITION- to have strong determination to accomplish challenging goals
September~ RESPONSIBILITY- to be accoubtable for your actions
October~ INTEGRITY- to do the right thing
November~ CITIZENSHIP- to be a productive, responsible member of society
December~ COMPASSION- to understand the challenges of others and to want to do something about it
January~ RESPECT- to show consideration or thoughtfullness to self and others
February~ COOPERATION- to respectfully play and work with others
March~INITIATIVE- to act and make decisions on your own
April~PERSEVERANCE- to continue trying in spite of difficultiies
May~ SELF CONTROL- to express your feelings and actions in an appropriate manner
June~ COURAGE- to remain strong when faced with difficulty
July~ LOYALTY- to be faithful to a person, a team or an idea
Title I Documents and Information
Administration
Principal - Dr. Cristin Nowak
Asst. Principal - Nancy Henson
Asst. Principal - Taisha Newcomber
School Times
Doors Open: 7:55am
Breakfast: 8:05
Period 1: 8:15
Period 2: 9:04
Period 3: 9:53
Period 4: 10:42
Period 5: 11:31
Period 6: 12:45
Period 7: 1:34
Period 8: 2:23
Dismiss: 3:09pm