Falcons Highlights 2013-2014
Swim Team
His nickname is Swim Team because he is the "Swim Team". Harrison Rice is Van Horn's one and only team member. With the help of his coac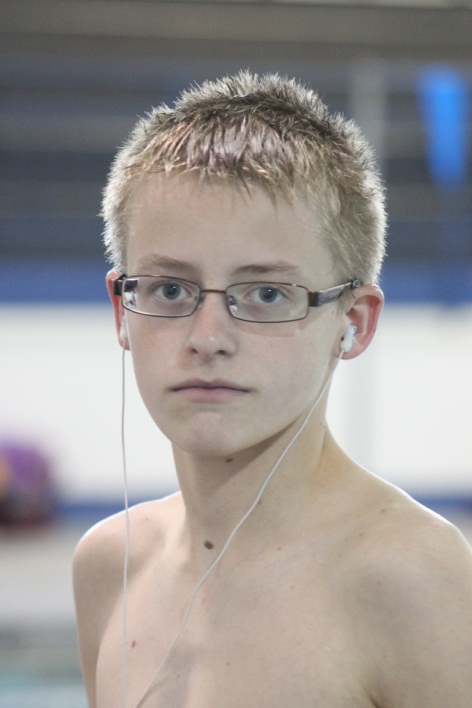 hes, Trevor Tomney, Henley Aquatics Director, and Jeff Nunn, School Resource Officer at Van Horn, Harrison enjoys competing at the high school level. Harrison swims in several events including 50 and 500 freestyle, breast stroke and fly. As this season progresses Harrison is seeing improvements in his times. He has been part of a Swim Club and been competing for 6 years.
Van Horn has been without a swim team for more than 30 years. This revival is due in large part to Officer Nunn who brings a real passion for swimming to our school. He was a 6-time All-State (MSHSAA) swimmer at Truman High School and a 13-time NAIA and NCAA-Division II All-American Swimmer in college at Drury University in Springfield, MO.
Van Horn hopes this is only the beginning of good things to come!
Photos courtesy of Jason Blair - Yearbook Staff
Youth Entrepreneurs Regional Competition
Robert McDaniel, Andrew Huber, Davon Iverson, Cathy Allen, Caprice Cornley, Savanna Johnson, Brandon Duren, Isaac Torres, Dakota Wellburn, Daniel Serres, Dorthy Padilla, Niicole Kersh, Alyssa Dockins, Kelsey Davis, Kaleigh Watts, Drake Willoughby - Kansas City Metro Region (all ISD YE students included in picture).
Eight of these sharp dressed students are Mrs. Solomon's Youth Entrepreneurs (YE) students from Van Horn High School who advance onto the Regional Business Plan Competition! The judges were amazed at how well all these young people presented their plans . . . . better than some college students the judges had taught! Teaching YE has always been a blessing for Mrs. Solomon and this year's classes have added more reasons why she wants to stay in the classroom! Mrs. Solomon wants to thank all her YE students, past and present. "You're the best!"
Laura Solomon, Youth Entrepreneurs Teacher
Two Van Horn seniors receive an Excellence Award for Character
MSHAA has awarded Van Horn seniors, Kylan Alexander and Cierra Sua, an Excellence Award for character. Kylan and Cierra were nominated by their coaches based on their character traits, community service and commitment.
Poetry Slam -  Photo credit:  Alissa Maddox - Photo Journalist
Van Horn's annual Poetry Slam was held on Thursday, April 24th, 2014. Fourteen students participated in the final round in front of the student body. A panel of judges decided the winners.
Two Van Horn students advance to Eagle Scout Rank in Troop 201
Junior Harley Schwarz-Decker, son of Perry Hill and Barbra Schwarz-Hill of Independence, joined scouting in 2002. He earned his Arrow of Light, the highest rank in Cub Scouting, and joined Troop 201. He is a Warrior in the Tribe of Mic-O-Say and a Brotherhood member of the Order of the Arrow. Harley has held leadership positions in the troop that included Senior Patrol Leader, Quartermaster, Librarian and Den Chief. Harley earned his Eagle rank on May 2, 2013. His Eagle project was held at the church he attends Northern Boulevard United Methodist Church. His project consisted of rebuilding a retaining wall and fence making it safer for people entering the church.
Junior Joshua Faustlin, son of Nathan and Shannon Faustlin of Independence. Joshua is a member of the Van Horn wrestling team. Josh earned his Eagle rank with Troop 201 and his Arrow of Light in Cub Pack 201. He is a Brave in the Tribe of Mic-O-Say and a Brotherhood member of the Order of the Arrow. He has earned 29 merit badges. Josh has held leadership positions of Quartermaster, Chaplain's Aide, Patrol Leader, Assistant Patrol Leader, Senior Patrol Leader and is currently a Junior Assistant Scoutmaster. His Eagle project was renovating the downstairs hallway of Northern Boulevard United Methodist Church by placing handrails and painting stairs, improvements that make the hallway safer for people walking downstairs.
College Signings
Kylan Alexander and Tony Winningham signed their letters of intent to their respective colleges on Thursday, March 6th. Kylan will attend Missouri Western and Tony will attend Lincoln University both on football scholarships.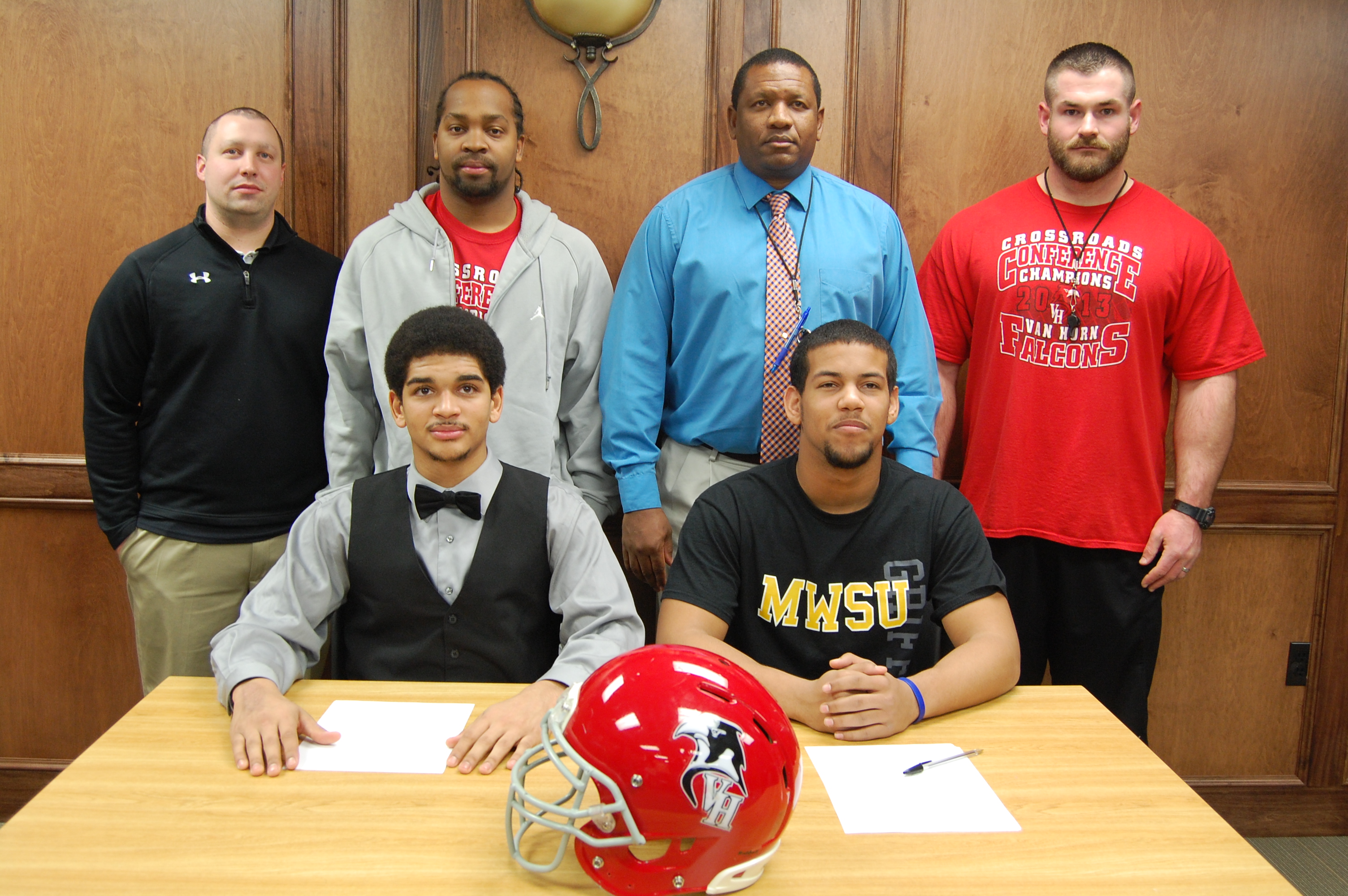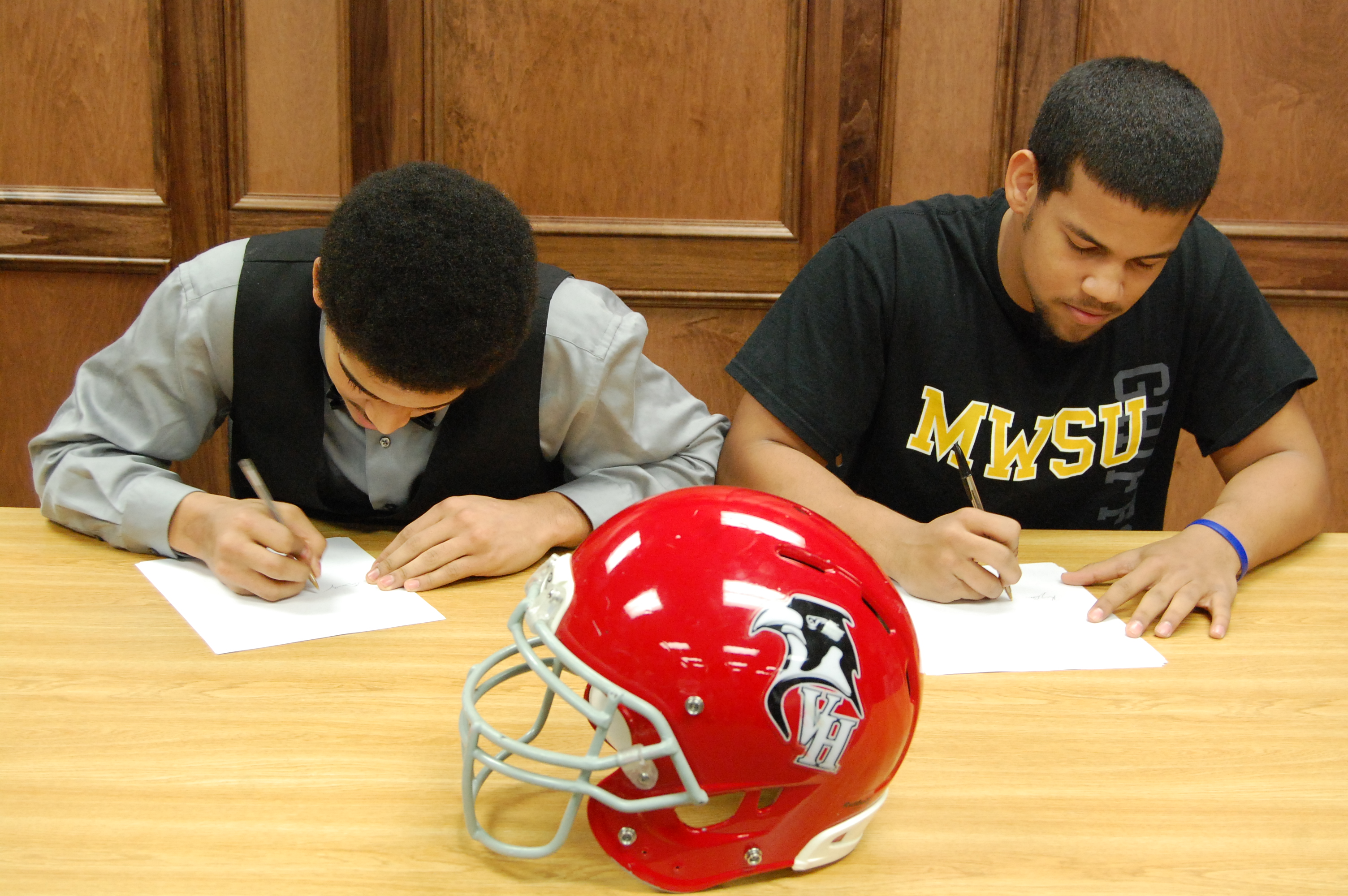 Tony Winningham Kylan Alexander
Mock Interviews - Melissa Montesano's Career Connections Classes
Van Horn partners with Community America for the Dr. Bob Characterplus program. One way Community America contributed to this program was to bring a few staff members to Van Horn to involve the students in a more real world situation collaborating with the students to encourage character development. The mock interviews allowed the students to practice their interviewing skills with a member of the community, simulating briefly what a real interview might be like and therefore better preparing them for their own job acquisitions someday. Each interviewer also chose one student from their stack of interviews they thought excelled and who they would have "hired". The students really stepped up to the challenge, adorning the proper attire, giving thorough and thoughtful answers and facing their fears of public speaking. It was a great experience! The students who were "hired" included:
4th hour - Kylan Alexander, Daliannis Allen, Ayanna Childress, Anna Diaz and Renardia Wilson
6th hour - Kalen Conkling, Andrew Huddleston, Damian Kindelan, Alex Lopez, Katelin Tucker-Brower and Will Wilcott
7th hour - Jaylen Andrews, Shelby Cordon, Kasey Fink, Keon Lamb and Tori Porter
Van Horn's CIA Robotics Team Exhibits Robot at Three Trails Elementary Science Night
Van Horn's robotics team, Cyberbotic Independence Alliance (CIA), exhibited their robot, Cyberbot, at the Three Trails Elementary Science Night on January 23, 2014 sponsored by the Three Trails PTA. Van Horn's CIA robotics team coached the K-5th graders on how to drive Cyberbot through an obstacle course. The CIA robotics team also brought along their mascots, the Rock 'Em Sock 'Em robots, to encourage kids to become involved in robotics. The mascots were a big hit -- groups of Three Trails' elementary students went up to hug CIA's mascots, while other students asked to have their pictures taken with them. The Three Trails Elementary Science Night was a huge success, and helped promote science and technology within the community.
Kendrey Yates along with the rest of the CIA robotics team helped elementary students drive the robot
Celebrities: Students at Three Trails Science Night wanted their pictures taken with the Van Horn CIA team's robot mascots
Robots unmasked: Jonathan Diaz and Jesse Ikobe received several hugs from kids through the night
The CIA robotics team setup a robot obstacle course for the kids
JRTOC falcon cadet named best in state
Cadet Major Leeland Lityma an academic senior and fourth year JROTC cadet at Van Horn High School was selected by the American Legion as the JROTC Cadet of the Year. Cadet Lityma epitomizes the Scholar—Athlete—Leader model. He has earned a cumulative GPA of 3.8, is ranked in the upper 10% of his graduating class, and is active and successful across the full spectrum of high school activities. Cadet Lityma currently serves as the Falcon Battalion Executive Officer. He is a McCoy Medal winner and a member of the Varsity wrestling team at Van Horn. Lityma is also active in his local church and especially the youth group where he volunteers and serves as a "buddy" with the Exceptionals Softball program, a t-ball sports program for young people with significant disabilities.
According to Mr. John Buckwalter, Chair of the ROTC Awards Committee, each year the American Legion, Department of Missouri, recognizes one outstanding Junior ROTC cadet as the Missouri JROTC Cadet of the Year. The candidates are nominated in their junior year so that if selected they are then able to serve as a continuing role model, inspiration and mentor of other cadets during the senior year. The Department's ROTC Awards Committee reviews all nominations from across Missouri during the annual convention and carefully selects the individual who best fits the selection criteria of scholarship, leadership, service to unit, school and community. In addition to a very nice plaque, the cadet selected also receives at $500 scholarship paid during his/her first semester of college.
Cadet Lityma's future plans after graduation include attending college where he plans to also participate in the Army ROTC program and concurrent with earning his academic degree he will also earn his commission in the United States Army as a Second Lieutenant. In December, Lityma was notified he had been accepted to the University of Missouri to begin classes in the Fall of 2014.
Mr. Mark R. Clark, Post Commander of Tiery J Ford, Post 21 American Legion here in Independence when he was informed of the selection shared the pride and excitement of this local success. "…Outstanding selection, an outstanding cadet, all of us at Post 21 wish Cadet Lityma well in his future and appreciate what he has done for his school and community…" Cadet Lityma also previously attended Missouri Boys State as a selectee sponsored by American Legion Post 21. Lityma has been invited by the local Commander to speak at the regular monthly meeting on Thursday, 6 March.
Cadet Leeland Lityma, Army JROTC at Van Horn High School recently named the Cadet of the Year for state of Missouri American Legion.
Article submitted by:
Michael A. Byrd
Lieutenant Colonel-Retired US Army
Senior JROTC Instructor
Inspire Bowling Party at Diamond Bowl
Students and mentors had a fun time bowling and enjoying chicken fingers and fries during the Inspire Fall Bowling Party held at Diamond Bowl on the Independence Square.
Inspire - One Student at a Time is the new volunteer program created by the Independence School District. We have four mentors paried with four students and they have been with them since early elementary school.
If you would be interested in participating in this volunteer program, please contact Robin Rockhold, Van Horn Inspire Building Coordinator at robin_rockhold@isdschools.org.
Van Horn Stages help local food pantry
On Sunday, October 20th members of Van Horn Stages (Van Horn High School's drama department) took to the neighborhoods of Independence and asked the community to participate in Trick or Treat So Tots Can Eat. Trick or Treat for Tots is an activity sponsored by the International Thespian Society. People all over the country participate. Members of the community were asked to collect canned goods and non-perishables, place them in a bag and set them out the following Sunday. Then on October 27th Van Horn Stages went "trick or treating" and collected the items which will be donated to the local food pantry.
Proposal seen round the world
She Said Yes!
With help from the Van Horn cheerleaders, Trevor Julo pulled off an amazing half time proposal to his fiancee, Van Horn Journalism and Media teacher and head cheer coach, Crystal Escobar.
As Van Horn Principal, Patrick Layden, gave Ms. Escobar a bouquet of flowers, the cheerleaders created their pyramids holding the placards "Will You Marry Me?" When asked if he was nervous about her answer Trevor said laughing, "I knew she'd say yes. After all that planning, how could she say no?"
The proposal soon went viral and the happy couple received congratulations from family and friends all around the country.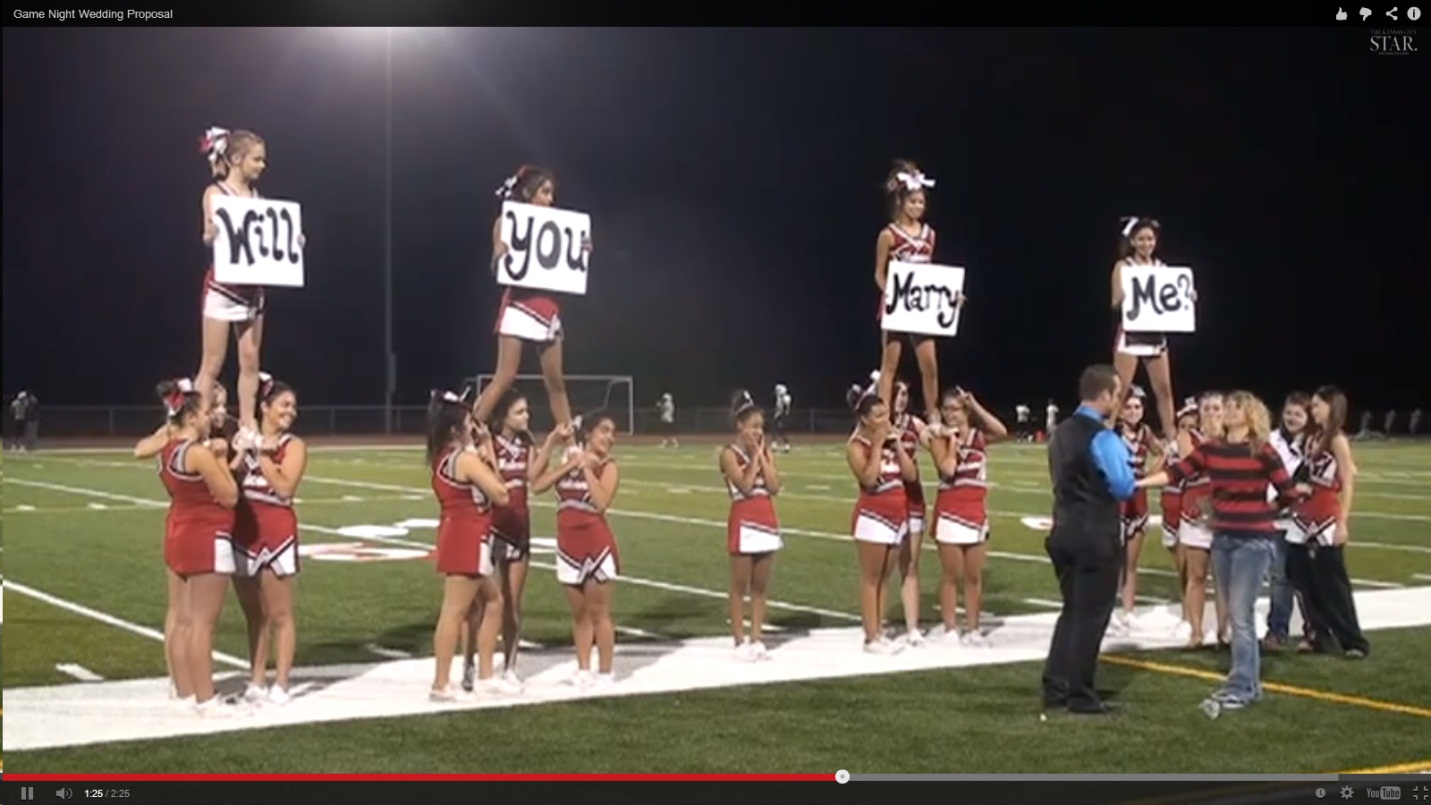 JROTC visits Lake City
Van Horn Army JROTC Visits Lake City Army Ammunition Plant for Veterans Day Observances
On November 14, 2013 Van Horn High School's JROTC color guard and 3 specially selected cadet leaders travelled to the Lake City Army Ammunition Plant (LCAAP) currently operated by Alliant Techsystems Inc. (ATK). The cadets were invited to participate in ATK's annual Veterans Day ceremony. ATK employs over 300 veterans from various branches of the US military. Veterans Day holds a very special meaning to such a group who served and who continue to serve. In addition to the ceremony, the cadets were invited to tour the facilities of LCAAP.
The short trip proved to be an exciting learning experience for the cadets. The plant produces a wide variety of small caliber rifle munitions ranging from 5.56mm rounds used in the basic M-16 rifle and 7.62mm rounds used in the M134 mini gun, to Caliber .50 rounds used in the M2 machine gun. The plant also produces 20mm medium caliber rounds and both small and medium caliber primers and links. These munitions are produced to support the Department of Defense (DOD), other federal agencies, and the militaries of allied foreign countries. Mr. Chris Beach, Director, ATK Small Caliber Systems summed up LCAAP's mission as; "Our mission is to support the war fighter". Cadet Larissa McCarty said "It was an enriching experience I was lucky to have".
Harry S. Truman broke ground for construction to begin at Lake City on 26 December, 1940 and 9 months later the plant shipped out its first rail car of ammunition. LCAAP played a significant role in supporting the war time demand for small arms munitions during World War II. Lake City recently completed a $400M modernization program and now annually produces the equivalent of what it took 12 factories to produce during World War II. Currently, ATK Small Caliber Systems employs over 2000 workers and the LCAAP government staff consists of 28 employees. With over 400 buildings/structures sitting on approximately 4000 acres the plant produces over 2 billion rounds per year. Lake City supports a NATO ballistic testing center, one of only two such sites with the other located in England and a DOD Ballistic Service Organization (BSO) ballistic test center.
While at Lake City Army Ammunition Plant, cadets had the opportunity to meet Lieutenant Colonel Larry Cannon, Commander of the facility. Colonel Cannon shared some additional information and insight with the cadets regarding the strategic importance of LCAAP and the key role it plays in contributing to the defense of the US. (The cadets all agreed, Cannon, was a perfect name for the commander of an ammunition plant). Colonel Cannon states proudly that at Lake City Army Ammunition Plant …"we make the best small arms ammunition in the world…"
Cadets on the tour really appreciated the experience and opportunity to learn about the strategic process of ammunition production. Cadet First Lieutenant Mimi Hernandez states, "the quality assurance testing of production line ammunition products was far more extensive and detailed than I would have thought." But then United State's soldiers, war fighters and law enforcement officials deserve the best product available to help keep us and our nation safe and free.
Article by: Cadet Nico Tarantola, Falcon Battalion Public Affairs Officer (and LTC-Ret Mike Byrd, Senior JROTC Instructor)
Photo credits to Cadet Nico Tarantola
Concert Choir Carols at  Vaile Mansion
Members of our concert choir caroled at Vaile Mansion's open house. Our students represented themselves, our program and Van Horn wonderfully!
Coach Tolbert Honored
HEAD FOOTBALL COACH JEFF TOLBERT
HONORED BY CHIEFS
Coach Tolbert received this season's first Chiefs High School Coach of the Week award for Missouri. Tolbert is in his sixth year coaching the Falcon football team. Former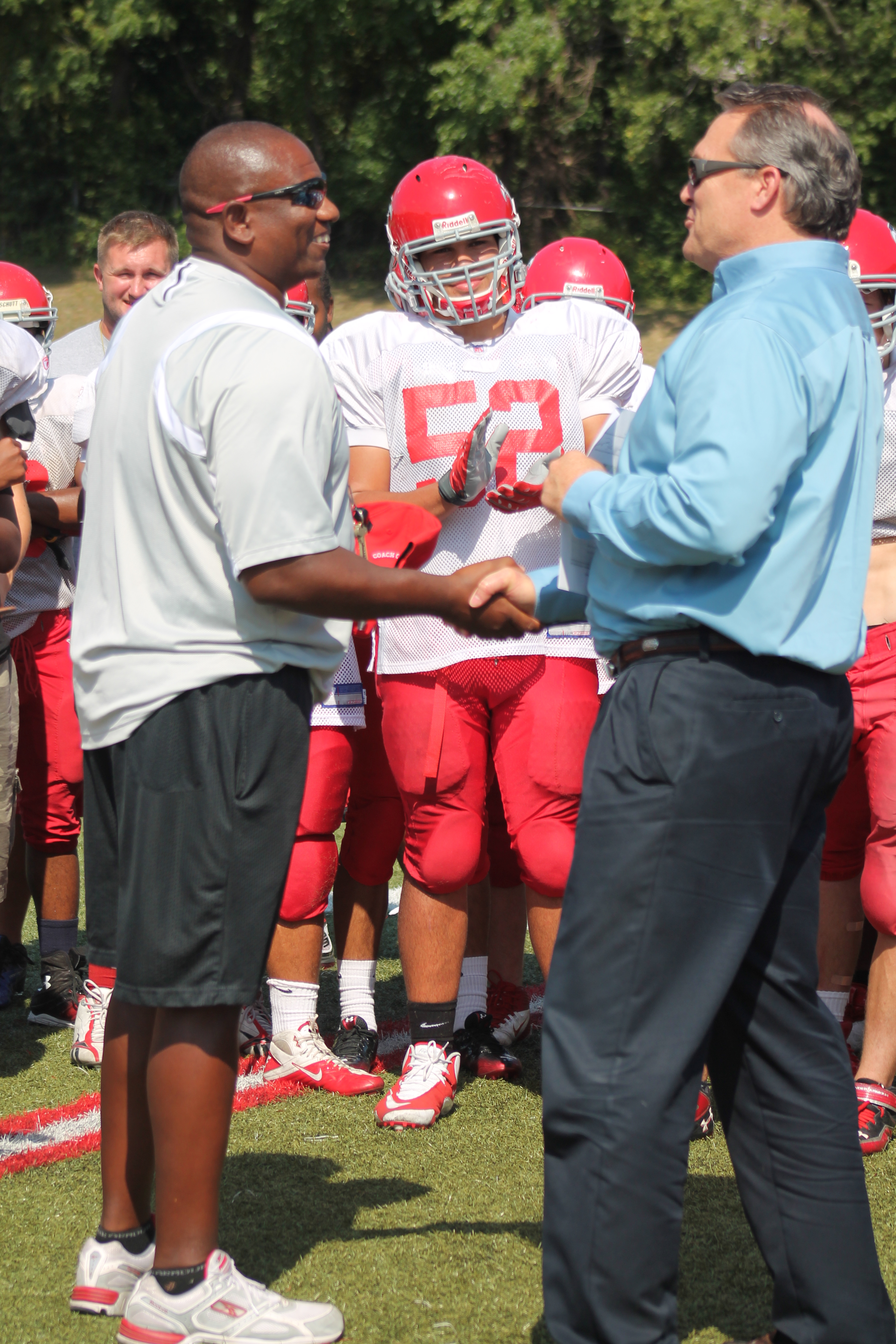 Chiefs linebacker and current Director of Special Events Gary Spani presented Coach Tolbert with a $500 grant toward player health and safety equipment and/or education along with a special-edition hat and a football signed by Chiefs Head Coach Andy Reid.
Van Horn Cheerleader makes UMKC Cheer Team
I would like to recognize Van Horn Senior Britney Sharp for making the UMKC cheer team. For those of you who don't know, Britney was not sure of her future college plans or if she wanted to go to college but after many discussions and soul searching she
decided to go, yay! UMKC is a d2 school and the cheerleading team is very advanced and hard to get on. This is a great accomplishment, there were many girls who tried out and they only took a few. She was the only freshman to make the team. If you see Britney give her praise. She deserves it.
Submitted by Crystal Escobar - Journalism I, Introduction to Media
State Industrial Technology Competition - May 5-6, 2014
.A wonderful time was had at the State Industrial Technology Competition and Van Horn was well represented. Everyone was on their best behavior and had a wonderful time.
Metayah Whitman Best in class electrical wiring
J R Pettorss Best in class Engine repair
Kyle Craker 1st place ribbon
Zach Klukow 1st place ribbon
Darrin Smith 1st place ribbon
Please congratulate these students on a job well done and ask them about the trip.
Submitted by Rick Gwinn, Foundations of Wood Technology
Van Horn receives excellent ratings at the Technology District Competition 
Van Horn had an excellent showing of student achievement at the Industrial Technology District Competition on April 23, 2014. Six students received 1st place awards and will be competing at the State Competition at the Lake of the Ozarks May 5th and 6th. If you see these students in class or in passing please congratulate them on a job well done. The projects will be on display Friday, April 25th in the Little Theatre. Please stop by and see these and other projects our students are currently working on. It is so great to be a Falcon where we can soar like the great birds we are.
Submitted by Rick Gwinn, Foundations of Wood Technology
Student
Rating
Score
Project
State qualifier
State
runner up

Craker, Kyle

1st

99

Plant stand

X

Kenney, Natesha

1st

89

Charging station

X

Klukow, Zachary

1st

91

bowl

X

Smith, Darren

1st

98

Refinishing

X

Kunkle, Christopher

1st

96

concrete

Negrete, Dayana

1st

86

shelf

Pettorss Jr, J R

1st

90

lamp

X

Pettorss Jr, J R

1st

98

engines

X

Shimek, Patrick

1st

95

concrete

Snell, Gary

1st

96

concrete

Terrones, Perla

1st

89

vase

X

Terrones, Perla

1st

95

cutting board

X

Wayman, Trent

1st

96

concrete

Whitman, Metayah

1st

90

Electrical

X

Escobar, Francisco

1st

91

box

X
Debbie Cox named 2014 FTC State Robotics Coach of the Year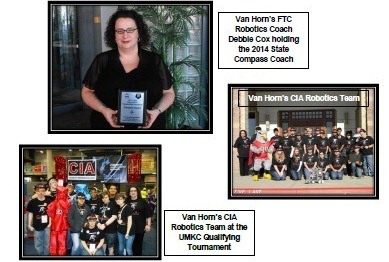 Debbie Cox, a chemistry teacher and FIRST Tech Challenge (FTC) robotics coach at Van Horn High School, was recently awarded the 2013-2014 FTC Robotics State Compass Coach of the Year and received a plaque on March 14, 2014 at the FTC Exhibition at the Business and Technology Campus on Front Street. The Van Horn FTC robotics team, Cyberbotic Independence Alliance (CIA), has been a finalist in several regional and state championships and the team recently won the 2013-14 FTC Motivate Award trophy at the State Qualifying tournament at UMKC for their community outreach and volunteer activities. Ms. Cox also promotes scientific and engineering research throughout the robotics season and her team developed and wrote a provisional patent for a new type of ferrite choke that helps to reduce radio frequency noise in cell phones and speakers. This invention, along with other team sponsored science and engineering projects, won awards at the regional science fair at Union Station.
Ms. Cox is a member of the MO/KAN FIRST LEGO League (FLL) Robotics Planning Committee and helps lead training workshops for other coaches and judges. Ms. Cox is the site head judge for the region's largest FLL qualifying tournament at Bingham Middle School and she has judged at the annual FLL Championship Tournament at Union Station. Ms. Cox has been coaching robotics for over eight years in the Kansas City region. Throughout the year, her teams have won championship medals and trophies and were featured in a national television public service announcement for Time Warner Cable and were even invited to the White House Science Fair and discussed their invention with President Obama.
Van Horn Success at Regional Science Fair
Awards received at Regional Science Fair
Kari Johnson multitasks at the Van Horn blood drive
Today's public school teacher……donating blood—the gift of life while she grades homework papers and her Probability and Statistics class members conduct a survey at the annual blood drive. Embedded learning, multi-tasking, finding creative ways to make time, dedication and getting it done! My new hero!
Michael A. Byrd, Lieutenant Colonel-Retired US Army, Senior JROTC Instructor
The Van Horn westling team celebrates after claiming the Crossroad Conference title with wins over Sherwood and Butler Thursday, January 30, 2014 at home
Even if several wins come from simply having somebody who can go the mat and get his arm raised, it represents progress for the Van Horn wrestling team.
Due in part to having a full deck of cards to deal, the youthful Falcons won the round-robin of Crossroads Conference wrestling teams Thursday, beating Butler 60-18 and Sherwood 60-24 on its home mat.
Van Horn, which improved to 17-2 in duals, won half of the six bouts and gained eight forfeits in the opener against Butler. Against Sherwood it recorded six pins and had a 4-1 advantage in forfeits. In between, Sherwood beat Butler 48-24.
"That's really a key for us," Van Horn coach Jeff Tolbert said of having a deeper, more spread roster. "I can remember not too long ago when we didn't fill a whole lineup – sometimes we only filled half a lineup.
"We had to shuffle some kids around in the Sherwood dual because they're a good team, and we had a starter out sick (138 pounds). We knew we had to have a few guys step up and fill a role."
Tyler Horton (152 pounds) and Andrew Huddleston (126) won by decision against Butler, Huddleston's win by a 16-11 count. Avery Crocker (160) added a pin in 1:48 after he reversed out of a takedown.
Carlos Cubas (182), Demerick Freven (220), Junior Ulmer (285) and Josh Faustlin (152) all had first-period pins against Sherwood, while Marcus Wilkins (126) and Michael Duncan (138) got their pins in the second period. Freven reversed out of a five-point move before getting his pin.
"I feel good about the effort, but I also feel good about the technique," Tolbert said. "I'm very pleased with how we performed."
Deymi Gonzalez (106/113) and Jayme Kennedy (113/120) each gained two forfeit wins. Faustlin and Wilkins also went 2-0, getting forfeit wins a class down against Butler.
Wilkins was the lone senior on Van Horn's squad until he convinced ROTC friend Leeland Lityna to join.
"In years past I had good times," he said. "This being my senior year, the younger guys, they're all a little ornery, but they're so much fun to be around. They put out a good vibe to be around."
Wilkins said he's seen improvement among the Falcons in their commitment and dedication to certain moves after consistent drilling.
"Coach, he's been beating it into our heads that it's basic," he said. "It's the basic stuff that will get you there."
By Mike Genet
mike.genet@examiner.net
Posted Jan. 31, 2014 @ 12:01 am
Wrestling at District and State
Congratulations to our wrestling squad for an outstanding team effort at the District Championships. We had two wrestlers qualify for state and five more who competed in the make or break round before state. Please congratulate our wrestlers who will be competing at the State Championships this Thursday, Friday, and Saturday and give some words of encouragement to those who made it so close.
State Qualifiers: Sylvester Newman (138), Carlos Cubas (182)
District Competitors: Deymi Gonzales (106), Marcus Wilkins (126), Michael Duncan (132), Joshua Faustlin (145), Tyler Horton (152), Avery Crocker (160), Leeland Lityma (170), Demerick Fruean (220), Junior Ulberg (285)
Van Horn's CIA Robotics Team Wins Trophy at UMKC FTC Tournament
Congratulations to the Cyberbotic Independence Alliance (CIA) robotics team for their fantastic performance at the UMKC FIRST Tech Challenge (FTC) Tournament on Saturday, February 1st. FTC robotics teams from around Illinois, Arkansas, Kansas, and Missouri competed at the tournament. The CIA team completed five rounds of robot field competition, and presented their robot, Cyberbot, along with a video presentation and engineering notebook to a panel of judges. The CIA team was on the winning alliance for all five rounds of robot competition, and our team was selected for the tournament's semi-finals alliance competition.
The CIA robotics team was awarded the tournament's overall 2013-14 FTC Motivate Award trophy. The Motivate Award celebrates the team that exemplifies the essence of the FTC competition through the team's collective effort to make FIRST known throughout their school and community. The team will also be competing in the Promote video competition at the FTC State Tournament in Rolla, MO in March.
The FTC game challenge is different every year – this year's theme is "Block Party!" in which a team can earn points by picking up 2" yellow blocks and placing them in baskets which are on moveable pendulums. In addition, teams earn points performing other tasks around a 12x12' field, including pulling up on a bar during the endgame. This is CIA's second competition year. Previous awards include a provisional patent, science fair awards, 2nd place FTC State Promote Video winner, and 2nd place FTC State Coach of the Year for Debbie Cox.
Our Van Horn team once again received a great deal of press from different news outlets including the KC Star. We also hope to post our own pictures and video of the competition on the school's website. Below are just some of our favorite links that we have discovered online:
http://www.kansascity.com/2014/02/01/4792386/first-tech-challenger-robitics.html
http://mingle.kansascity.com/photos/2014/first-tech-challenge-2014/#slide-26
http://mingle.kansascity.com/photos/2014/first-tech-challenge-2014/#slide-44
http://mingle.kansascity.com/photos/2014/first-tech-challenge-2014/#slide-51
http://mingle.kansascity.com/photos/2014/first-tech-challenge-2014/#slide-53
http://mingle.kansascity.com/photos/2014/first-tech-challenge-2014/#slide-64
http://mingle.kansascity.com/photos/2014/first-tech-challenge-2014/#slide-66
http://www.kansascity.com/2014/02/01/4792637/star-shots-best-photos-from-feb.html
Amazing performance by the cast and crew of White Christmas
Mega Dittos!
I'm impressed with the professional quality of the musical I enjoyed last night! Our students made us proud! - Darlene Dickerson, SPED Teacher
Van Horn Senior (2014) earns prestigious Gates Millennium Scholarship
Cierra Sua from Van Horn High School is the proud recipient of The Gates Millennium Scholarship for the Class of 2014.
The highly competitive scholarship, funded by a grant from the Bill and Melinda Gates Foundation, pays for the entire cost of tuition to any accredited college or university in the United State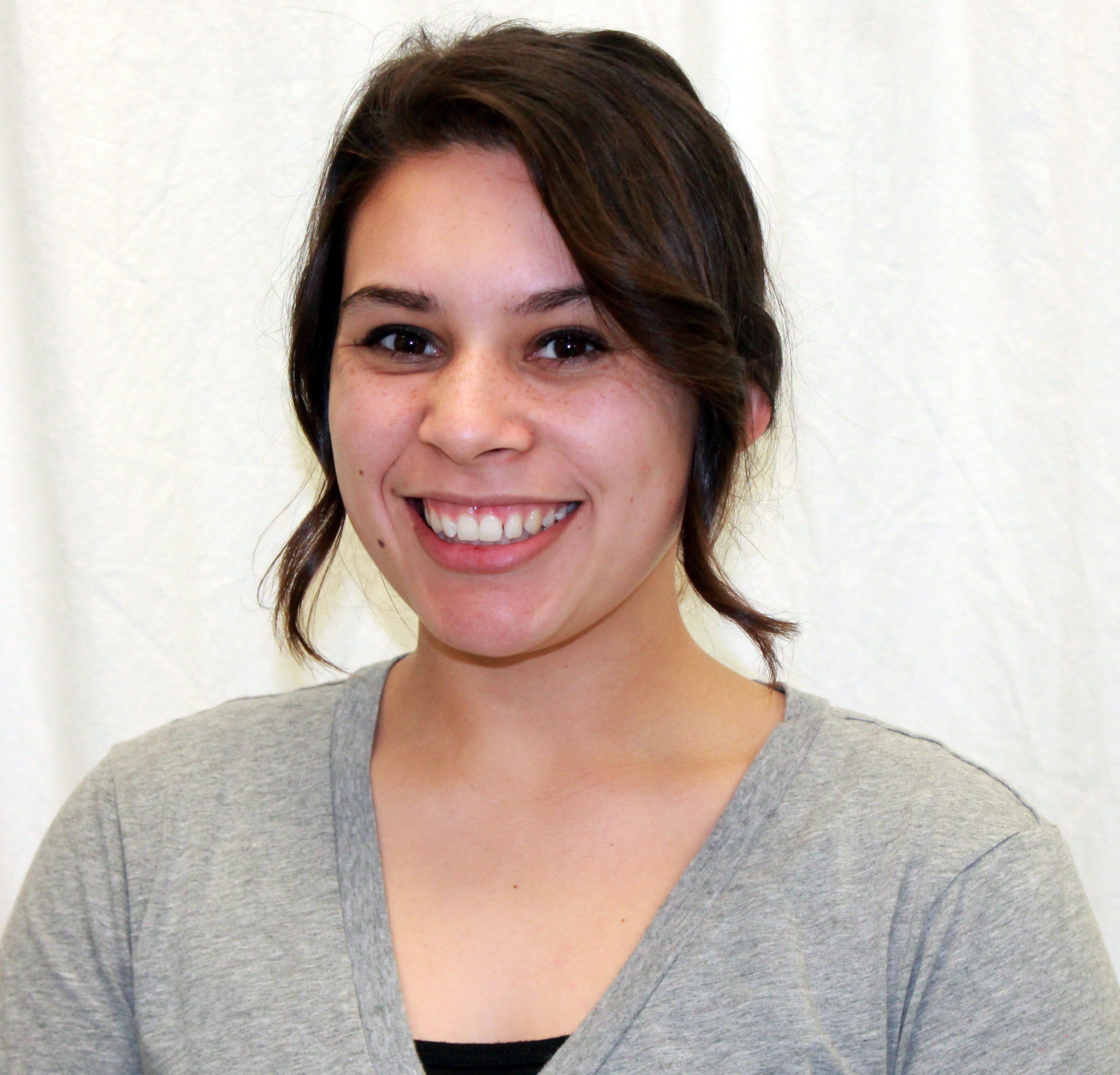 s.
The scholarship will also pay for certain doctorate programs.
More than 54,000 students applied and Cierra was one of only a 1,000 students chosen as a recipient of the major scholarship.
Cierra plans to attend the University of Utah and major in Elementary Education.
Last school year, David Daniel a senior at William Chrisman High School and Rungrote Athajarusith a senior at Van Horn High School earned the prestigious Scholarship for the Class of 2013.
David Daniel attends Harvard and Athajarusith attends the University of Central Florida.
Van Horn Baseball Team wins District Title
After 40 years, Van Horn has it's second-ever District Championship!
The Van Horn High School Baseball Team won the District Title on Tuesday, May 20, 2014. The game played at Roper Stadium was a 12-0 victory over their opponent Lincoln Prep. The Falcons are now 15-11 and advance to a Class 4 sectional game next Tuesday, May 27th against the St. Joseph Lafayette-Smithville winner. The last time Van Horn won a district title was in 1974. At that time, future Cy Young Award winner Rick Sutcliffe was a senior and Van Horn advanced to the state semifinals. Jay Kloster, Van Horn coach, was quoted as saying "It's pretty cool to be in the same company as Sutcliffe, a Cy Young winner and the most famous Falcon alumnus. We had the right mindset. We preach nothing comes easily and to play the same way if we are 10 up or 10 down."
Game highlights include senior Michael Payne pitching a five-inning, three-hit shutout. He struck out seven and waked two. Senior Levi Kelsey's three-run triple and junior Nathan Ingold's two-run triple helped create 8 runs in the 4th inning. Kelsey doubled again and freshman Alex Martin singled and tripled with three RBIs.
In the two district games, Van Horn has outscored their opponents 26-6.
Van Horn's Home Maintenance Class built benches for Roper Stadium
Mr. Gwinn's Home Maintenance class made dugout benches for Roper Stadium. When this baseball season comes to a close and the wood has had time to cure, the class will bring the benches back to Van Horn to be stained and the wording "Van Horn Falcons" painted in either gray or silver. Having our students build these benches was beneficial both financially and instructionally. They can take special pride in knowing they have been a part of bettering our baseball stadium for many years to come.
JROTC Cadet Josh Ramirez selected as the Outstanding Cadet in the State of Missouri
For the second year in a row a cadet from the Van Horn JROTC program has been selected as the Outstanding Cadet in the area by members of the Harry S Truman Chapter of Sons of the American Revolution.
This year's award goes to Cadet Captain Josh Ramirez. Josh is currently a third year cadet who plans to seek his commission as a Second Lieutenant in the US Army upon graduation from college.
Cadet Ramirez will be honored at the Sons of the American Revolution (SAR) monthly meeting on April 12th. In addition, his essay and nomination packet was sent to the Missouri state level SAR committee for consideration. He won that award as well and is named the Outstanding JROTC cadet for SAR--Missouri. Additionally his winning packet and essay will be sent forward to represent Missouri at the National SAR selection level.
The Outstanding Cadet of the SAR State Society will receive a silver medallion on a neck ribbon, a gold frame for the ribbon bar, a silver star to wear on the ribbon bar and a $500 cash award.
This is the same award won last year by Cadet Major Leeland Lityma.
Michael A. Byrd, Lieutenant Colonel-Retired US Army, Senior JROTC Instructor, Van Horn High School
Fairmount Elementary Girls on the Run (GOTR) Practice 5K Run
Today, the hottest day so far of this spring season saw Van Horn High School and the Englewood Business District inundated by clusters of elementary school aged young girls; running, panting, laughing, struggling, giggling, a few tears and so on. They are members of the Fairmount Elementary School's Girls on the Run (GOTR) team and today, Wednesday 7, May 2014, was their first complete, full blown practice run of 5 kilometers (3.1 miles).
The mission of the GOTR program is to inspire girls to be joyful, healthy and confident using a fun, experience-based curriculum which creatively integrates running. GOTR envisions a world where every girl knows and activates her limitless potential and is free to boldly pursue her dreams. Girls on the Run honors its core values. GOTR strives to:
Recognize our power and responsibility to be intentional in our decision making
Embrace our differences and find strength in our connectedness
Express joy, optimism and gratitude through our words, thoughts and actions
Nurture our physical, emotional and spiritual health
Lead with an open heart and assume positive intent
Stand up for ourselves and others
Ms Roselynn Burke and Ms Becca Fondren, teachers at Fairmount Elementary along with Ms Jennifer Stone, the LINC coordinator at Fairmount have been working long and hard over the past ten weeks to recruit, work with, train and run with 20 outstanding young ladies at Fairmount as a part of this school years GOTR program. Through the LINC office, the JROTC department at Van Horn became aware of the GOTR program and offered up several very motivated and promising young female cadet leaders to work with Ms Burke and Ms Fondren as assistant team coaches and "near peer" role models for the young runners at Fairmount. Cadets Tamarra Carroll and Brittany Sharp were selected and have for the past few weeks been spending time in the afternoon with the runners from Fairmount.
Fairmount GOTR is preparing for their actual 5K fun run which will be conducted on May 18, 2014 at Corporate Woods in Overland Park, Kansas. The actual running event brings approximately 2,500 girls, coaches, families, supporters and community members together to be inspired and awed as they cross the finish line.
The runners from Fairmount who participated in the practice 5Km run were:
3rd graders- Lilly, Elida, Mikayla, Madison, Ashley, Emily
4th graders- Madison, Leticia, Robyn, Aryanna, Ashley
5th graders- Xitlalic, Cheyenne, Yoseline, Aimee, and Stevie
At the conclusion of the practice race there were refreshments and plenty of cool water. Additionally, each runner received a medal, compliments of the Van Horn Track Team, Spirit Beads, from the JROTC Department and a Certificate of Completion.
Congratulations to all the runners who finished the practice 5K run. Special thanks to the Englewood merchants for allowing the run through the business district and for encouraging each runner to do their best.
Michael A. Byrd, Lieutenant Colonel-Retired US Army, Senior JROTC Instructor, Van Horn High School
Group shot from end of the practice 5K run; GOTR Runners and Coaches from Fairmount Elementary School, Cadre and Cadets from Army JROTC Van Horn High School.
Each runner received a certificate, an event medal and Falcon spirit beads for completing the 5K run. (Foreground) Cadet Larissa McCarty, JROTC Battalion Commander presents Falcon spirit beads to the Fairmount GOTR runners.
Ms Blunk, math teacher and distance running coach at Van Horn High School, helps pass out healthy snacks to the Fairmount GOTR finishers at the end of the practice 5K run.
---
Youth Entrepreneurs Classes send 6 students to the next level of competition
The Youth Entrepreneurs classes competed in their class room competition on March 21st to see whose business was most viable. This year's winners are sophomore Daniel Serres, owner of "D.A. Socks" and senior Dakota Welburn, owner of "Business Siters." Daniel won a $50 first place cash award and Dakota won a $30 second place cash award. Both students will advance to the YE Regional Competitions on April 28th where they automatically are awarded $100 for just advancing and have an opportunity to win more money to help them either pay towards furthering their education or to use as capital to start their business.
On April 3rd the classes competed in a trade board competition. YE alumni and Van Horn staff came into the Little Theatre to vote on the best business pitch and trade board. Senior Cathy Allen and sophomore Domonique Winston will have an opportunity to compete on April 28th at the Youth Entrepreneurs Flyers event against other business models from throughout the Kansas City Metro Area and potentially win some cash for their efforts.
Mrs. Solomon was notified on Wednesday, March 16th that ALL students attempting to go At-Large for regional competition have moved on! Please congratulate the following students: Kelsey Davis, Brandon Duren, Nicole Kersh, Davon Iverson, Drake Willoughy and Cathy Allen.
Youth Entrepreneurs is a year-long class that teaches business and entrepreneurial education to high school students, providing them experiences that help them prosper and become contributing members of society. YE has been offered in the Independence School District for 4 years and is the only course that allows students to actually set-up a business, sell to the school's population and potentially earn money at the end of the program. As well as teaching students how to dress for success and how to act appropriately at a business luncheon, YE also provides networking opportunities for its current students and alumni by holding events throughout the year that expose the students to successful entrepreneurs in the Kansas City Metro Area; and summer partnerships with local corporations. For instance, on April 17, 2014 YE is holding an event at the College Basketball Experience from 6pm-8pm called "Biz Connect" featuring local entrepreneur Davyeon Ross, Co-founder of ShotTracker. This event is open to the public and FREE. If interested in attending please reserve a seat at

www.youthentrepreneurs.org/events

.
Laura Solomon, Youth Entrepreneurs teacher
Comcast Honors Gold Medal Teachers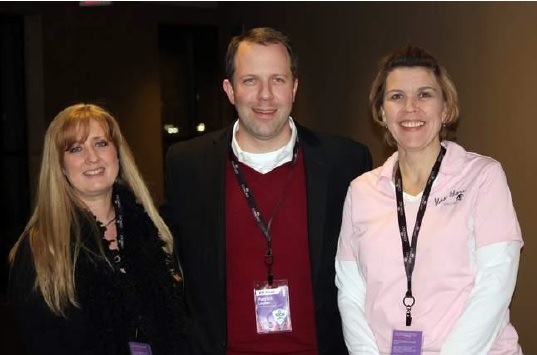 From left to right, William Chrisman High School theater teacher Kim Hayes, Van Horn High School Principal Patrick Layden, Van Horn High School business teacher Laura Solomon and Truman High School FACS teacher Angie Zarrillo (not pictured) were recognized as "Gold Medal Teachers" by Comcast at the Independence Events Center on Thursday night. Each Independence high school was awarded $2,500 in educational grants and each teacher who won received $500.
Teachers win their own gold medals
Comcast partnered with three local high schools to recognize excellence in teaching along with excellence in sport - the 2014 Winter Olympic Games - Thursday night at the Independence Events Center. William Chrisman's Kim Hayes, Truman's Angie Zarrillo and

Van Horn's Laura Solomon

won $500 each to spend as they wish, and each of the Independence high schools received a $2,500 grant. "We wanted to honor gold medal teachers who also had golden hearts," Comcast's Jayne Siemen said at the event that featured an appearance by 1980 United States miracle hockey team member Ken Morrow, free skating on the main ice at the Events Center and refreshments. "We believe it is important to give back to our community," Comcast vice president of field operations David Williams said. "And when you combine that with an event like we had tonight, it's just provides a great atmosphere to honor some wonderful teachers." Students and community members nominated teachers from the Independence high schools who are "inspirational, motivational, hard-working, persistent and dedicated." Voters then went to a website to select the three winners. "To be one of the three teachers nominated was just amazing," said Solomon, a business teacher and student council sponsor at Van Horn. "My kids came up to me and said, 'Miss Solomon, we're going to win this for you,' and they did. "I know the grant goes into a school fund and I am going to use my $500 to buy yearbooks for our homeless students and help make it possible for them to go to prom." That comment brought a tear to the eye of Hayes, a 24-year veteran of the Chrisman theater department. "I have no idea what I am going to do with my $500, but that is a wonderful idea - I'm so glad I heard you talking about that," Hayes said. "We have so many wonderful and dedicated teachers at William Chrisman. This is such an honor." Zarrillo was not able to attend the event because she is in Chicago with a group of student council representatives from Truman High School. "Angie is very deserving of this honor," said first-year Truman principal David Gordon, who accepted both checks on behalf of Zarrillo. "She certainly would have been here had she not been at a national conference in Chicago with members of Truman's student council. "We are proud of her for winning this honor." Teachers from Raytown and Raytown South high schools were also honored. Paula Dampier from Raytown South and Marlee Stempleton from Raytown were the honorees.
By Bill Althaus, Independence Examiner
Sean Crotty becomes an Eagle Scout - Troop 228
Sean Patrick Ira Crotty, 14, the son of Brian and Debra Crotty of Independence, joined Boy Scouts in August of 2010 and became a member of Troop 228 in February 2011. He is a brotherhood member in the Order of the Arrow. Sean has attended camp for three years and is a Brave in the Tribe of Mic-O-Say. His tribal name is Three Turtles in Balance.
For his Eagle Scout project, Sean built and installed 21 raised garden beds for the Urban Farming Guys and turned an inner city vacant lot into a community vegetable garden.
Sean is a freshman at Van Horn High School in Independence and plays offensive/defensive line for the Falcon's football team. Sean is also active in the Civil Air Patrol cadet program and holds rank of Cadet Technical Sergeant.
Sean plans to attend college and earn a degree in either chemical or computer engineering.
Article appeared in Independence Examiner on 12-14-13
Students serving our community at Stone Church
Van Horn Students Continue to Perform at Stone Church
On Wednesday, October 16th, Junior Brando Garcia e
ntertained by singing and playing his guitar. The choir from William Southern Elementary, under the direction of Cindy Smith, performed as well. Both were very well received.
Last spring, Independence Schools Superintendent Dale Herl asked Erin Barrier our Orchestra and Choir Director, to lead the task of providing entertainment for the Stone Church's weekly community dinner. Different Independence schools will be involved each week.
The Community Dinner Partners group is very excited to have our school district represented in this endeavor. The Van Horn Music Department also serves at this dinner every two months.