Falcon Highlights 2015-2016
Reco Miller Upholds Van Horn's String of Top Running Backs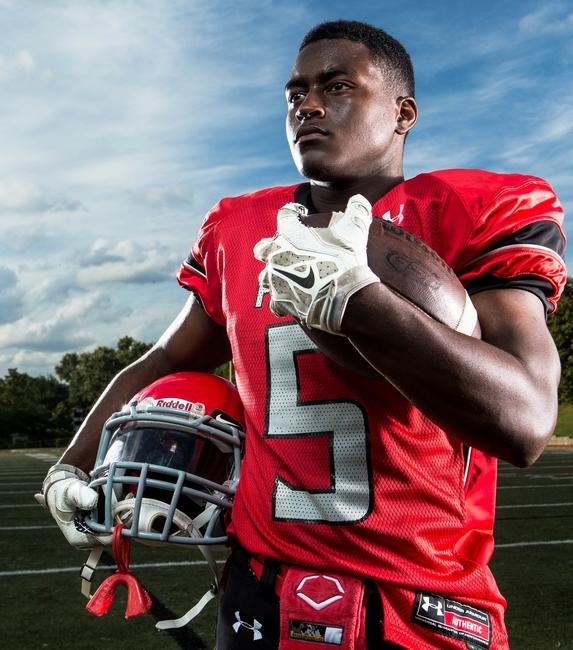 Van Horn football coach Jeff Tolbert was never worried about his running back situation after 2,000-yard rusher J.J. Rivers graduated in 2014.
He didn't have a reason to be. He had Reco Miller.
The senior running back has continued the Falcons' burgeoning tradition of having talented ball-carriers. Jayvon James started the string. In 2012, they had Denzel Strong who rushed for 1,537 yards his senior season. The last two seasons, Rivers carried the ball for 3,652 total yards, including a school record for rushing yards in a season (2,214) in 2014.
Miller might best them both. So far, he's rushed for 902 yards and nine touchdowns through four games and he's on pace to break Rivers' record. Two weeks ago, TWC SportsChannel awarded Miller its Hy-Vee Player of the Week honors after a 333-yard, four-touchdown game in a win over Sherwood.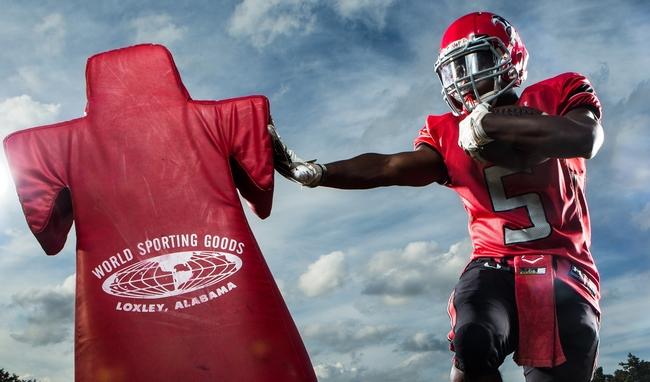 "He's in a position where he could break the school record," Tolbert said. "He hasn't been all that close to the most yards in a single game held by Denzel Strong, who had over 400 yards. He has a ways to go to break that record. But he's on pace to have a really good rushing year."
The success from the senior running back has been a surprise to no one on the team. He's had all the intangibles that make a great back – speed, power and elusiveness, with the latter impressing Tolbert the most.
"These are the type of performances we expected from him," he said. "He's very elusive. There are a lot of fast guys out there, but Reco can get himself out of a jam in a 3-yard box. There's a lot of guys that really can't do that. That really wasn't J.J.'s forte last year. He has escape ability that I haven't seen since I've been here.
"Against Lathrop, he had a touchdown run where two kids on their team collided trying to tackle him."
Miller also has the ability to break tackles, too. Although his 5-foot-6, 175-pound frame may not suggest that he has power, he provides plenty of it in his game.
"He might look small, but he's a thick kid. In the Sherwood game, he was able to break some tackles," Tolbert said. "He turned runs that should have been 10 to 15 yards into 60-yard gains because of his ability to break away from some tackles."
Added Miller: (The offensive linemen) are so tall and I am so little, all I have to do is hide behind them basically."
His speed, however, has stood out the most. The players on Van Horn admit that he is the fastest player on the team. His speed is part of the reason he is the main sprinter for the track and field team.
Because of that, people like fellow running back Rasean Weathers often to challenge him to a race after practice. Miller wins every time.
"Sadly, yes," Falcons quarterback Samila Sua said when asked if Miller was the fastest player on the team. "I'm not going to challenge him. I let him go against Rasean and all those guys.
"When we run gassers after practice, and he's beating Rasean by at least 3 yards."
For the senior running back, he's just happy to be able to race his teammates and be out on the field with them. Last year, his season was derailed by a partially torn ACL and PCL, which he suffered in a game against Summit Christian Academy.
"It was the worst pain I have ever felt," Miller said. "That was all I could think about at the time. After the injury, I really wanted to be out there. I never want to be off the field."
The key for him to continue his success is to stay healthy, which will be a challenge given that he's served as the Falcons' bell-cow running back, already exceeding 100 carries this season.
It's a challenge he is more than willing to accept.
"I feel fine," Miller said. "I am very sore after every practice and game and needed to be iced down, but I feel good. I want to be out there every game."
Added Tolbert: "He's dinged up a little bit, but he can take it. If we can keep him healthy, he will carry the ball as many times as we need him to. He doesn't take plays off either. Some kids carry the ball a lot and say, 'Coach, I can't carry the ball anymore.' You get 100 percent from Reco every play."
If he does stay healthy, Miller could have the best season by a running back in the history of the program. So far, the success has come and the excitement around his season is increasing.
That doesn't mean he's going to let it go to his head, though. He has one big team goal in mind.
"It's been my goal since the summer to help the team win a playoff game," Miller said of a Falcon program that never has won a playoff game. "I can't take all the credit. It's all about my offensive line. Without them, we would not be successful in any kind of way."
His teammates have certainly take notice of the senior's humble attitude and they are embracing his success.
"Reco has a lot of attention on him right now, but I like it because he's such a humble guy," Sua said. "He never wants to take all the credit. You won't see him get big-headed over something like this." Offensive lineman Cody Storey agreed.
"It's easy for this kind of stuff to go to your head," Storey said. "It's really surprising how humble he's been this year. You kind of expect cockiness and him not doing the things when he's supposed to. He does everything he needs to do. He gets the job done. We take pride in what he's done. It makes us want to do more for him."
By Michael Smith
michael.smith@examiner.net
This article appeared in the Independence Examiner on Thursday, September 17, 2015
Falcon Runners Dominate at Barstow Meet
Congratulations to Sam Baker and Karli Schnakenberg for being the individual boy and girl champions at "The Barstow Cross Country Invitational" on Tuesday, October 6th.
Nina Campos and Chase Siedlik medaled taking 2nd and 3rd place respectively.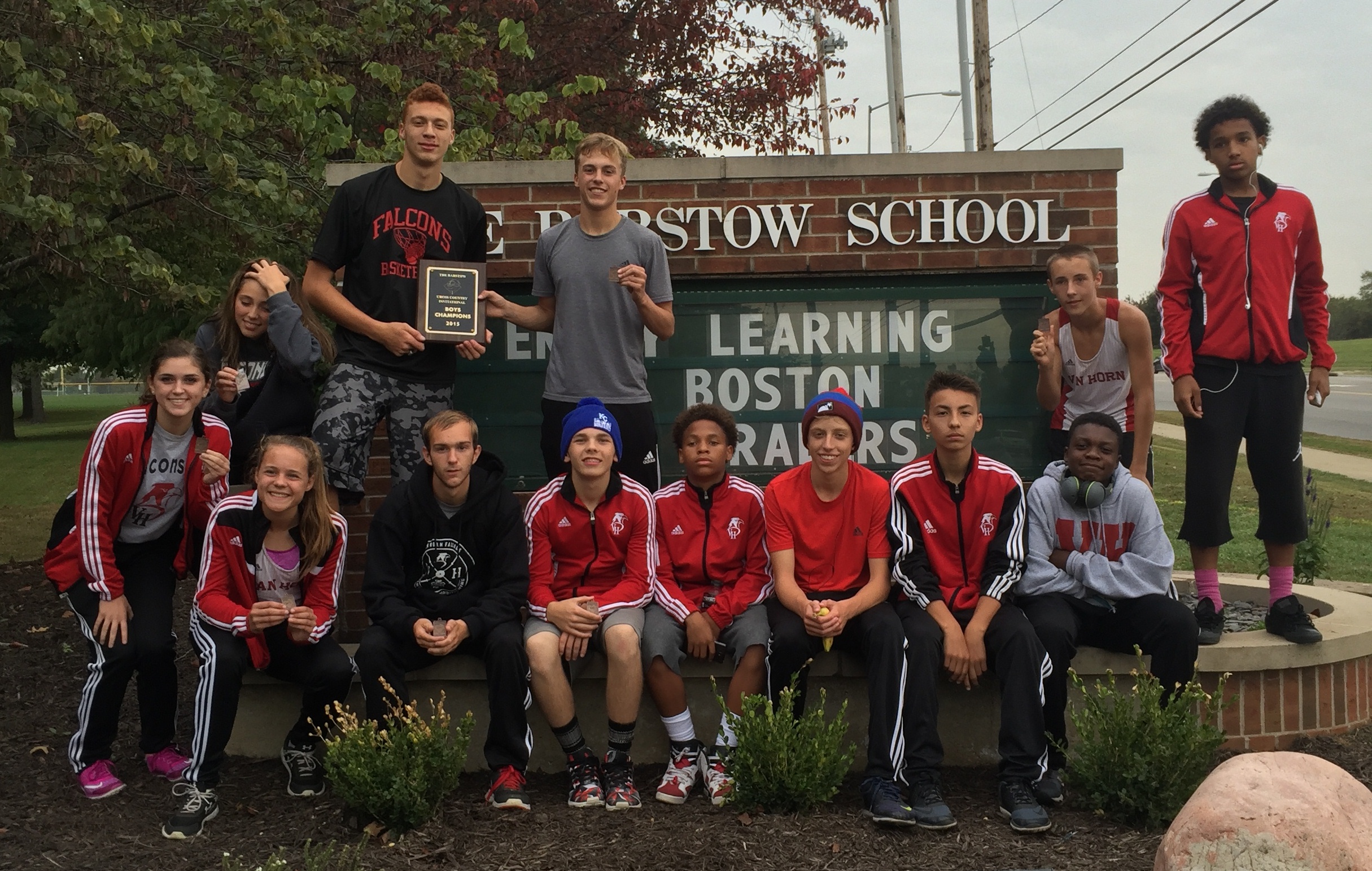 Medaling on the boy's side were Matt Haylock taking 2nd, Jonathan Buschart taking 7th, Josh Smith taking 14th, Kyle Schnakenberg taking 15th and Xavier Marrero taking 16th.
The boy's team also brought home the first place team trophy.
Congratulations to all who raced.