Van Horn High School - Home of the Falcons
CHARACTERplus Survey
CHARACTERplus Survey for Parents and
All surveys need to be completed by March 27th.
Van Horn's 3rd Annual Science and Engineering Fair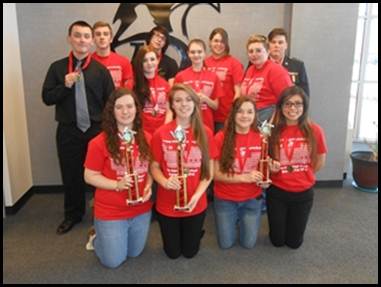 Front row (left to right): Lauren Hopkins, Mirinda Holthe, Naomi Kroeger, and Arianny Pujols. Middle row: Trevor Clay, Destany Williamson, Destany Walcott, and Elizabeth Terry. Back row: Logan Putthoff, Chase Wilburn, Mallory Kneece, and Raymond Kistner. Science Fair Sponsor: Debbie Cox, Science Teacher
Van Horn High School hosted the 3rd Annual Van Horn Science & Engineering Fair on Tuesday, February 24, 2015, in the Little Theater at Van Horn High School.
To encourage real-world science research, students at Van Horn High School performed long-term independent research projects over topics such as behavioral science, engineering, computer science, math, chemistry, biology, and inventions. Students wrote a formal paper about their research and presented the paper and a display board at the science fair. Students were then interviewed by a panel of judges. This year's judges included Dr. Brad MacLaughlin, Assistant Superintendent of Secondary Instruction, Dr. Jon Loewe, Assistant Principal of Truman High School, Cindy Magnifico, District Science Coach, Deborah Karlsson, Van Horn Learning Media Specialist and Penny Holm, Van Horn Assistant Principal.
Congratulations to the following students who were awarded Grand Prize trophies at the fair:
1st Place Grand Prize: Awarded to Mirinda Holthe for her invention project, "The Development and Analysis of a Biodegradable Valve Oil for Musical Instruments"
2nd Place Grand Prize: Awarded to Lauren Hopkins for her mathematics project, "Predicting Frequency Using Benford's and Zipf's Laws: Does Randomness Exist?"
3rd Place Grand Prize: Awarded to Arianny Pujols and Naomi Kroeger for their zoology project, "Counteracting the Effects of Perchlorate Pollutants on Daphnia magna Using Non-Toxic Antioxidants"
Division medals were awarded to top projects in the following divisions:
Behavioral Science Division: Mallory Kneece & Elizabeth Terry, "The Study of Zodiac Sun Signs and Character Traits"
Chemistry Division: Logan Putthoff, "Preparation and Purification of Potassium Chlorate"
Earth & Space Science: Jonathan Diaz, "Determining the Center of the Milky Way Galaxy Using Globular Clusters and GoogleTM Earth"
Engineering Division: Chase Wilburn & Destany Williamson, "The Development of an Electromagnetic Self-Charging Cell Phone Case"
Environmental Science: Raymond Kistner, "The Determination of Phosphate and Nitrate Levels in Water Samples"
Matter & Energy: Trevor Clay, "The Determination of the Optimal Ratio of a Fluorescent Sensitizer Dye and Catalyst for the Oxidation of Luminol"
Molecular Biology: Destiny Walcott, "The Effect of Varying Buffer Concentrations on the Rate of Migration in Electrophoresis"
Van Horn Dates to Remember
Forms and PowerSchool Link
College Center
This new webpage created by our College Advisor, Katie Meyer, has a tremendous amount of information including campus visits, scholarship searches and what you should be doing NOW to prepare for your future.
Cinderella comes to Van Horn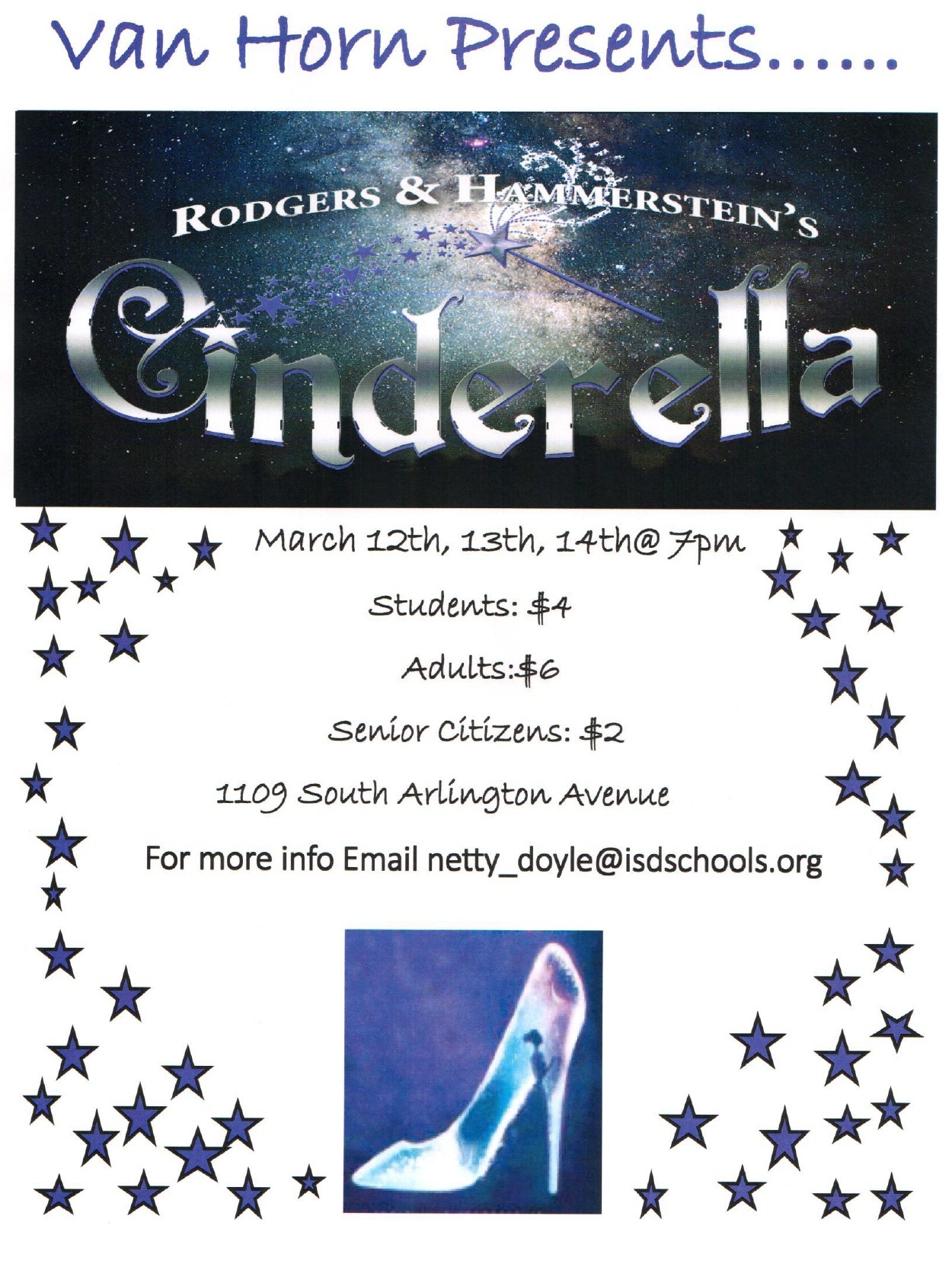 Class Enrollment for 2015-16 Now Open!
Class enrollment for the upcoming school year is now open through February 24th. Log in to your PowerSchool Account to enroll now!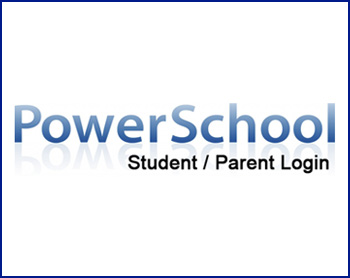 Click here for a handout on how to enroll
Information about the new Academies in the ISD and specific course descriptions can be found in the ISD High School Program of Studies.
Click here for the the Program of Studies
Van Horn Announces a New Principal
Current Van Horn Principal Patrick Layden will move into the role of Director of Student Data Management/Residency. Layden has been with the Independence School District for more than 20 years where he has served as a teacher, learning coach and most recent as the principal of Van Horn High School. He was also awarded the Van Horn High School Teacher of the Year in 2009-2010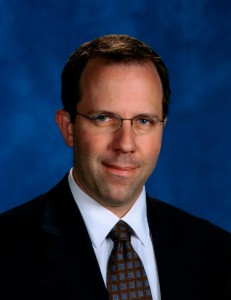 and later named the Independence School District Teacher of the Year. Layden received his bachelor's degree in History/Political Science from Park University, where he also received his master's in Educational Administration. He received his specialist in Educational Leadership from Saint Louis University and is currently pursuing a Doctorate from SLU in the same field. Layden is also a graduate of the Independence School District along with several generations of his family dating back to the 1800s. Speaking about his new role, Layden said, "The opportunity to build a new department centered around better and more efficient customer service for our new and returning parents and students, along with streamlining district and state data processes, is exciting for the potential benefits to our district."
Filling Layden's principal position at Van Horn will be Randy Maglinger. Maglinger currently serves as Assistant Principal at William Chrisman High School. Maglinger, a Chrisman graduate, received his bachelor's degree from the University of Missouri, his master's degree in Liberal Arts from Baker University and his specialist degree in Secondary Leadership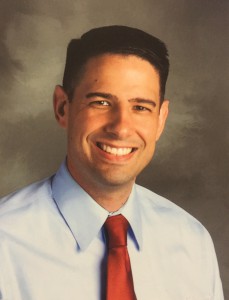 from the University of Central Missouri. Mr. Maglinger is married to Jessica Maglinger, a former second-grade teacher at Sycamore Hills Elementary School. They have three children, Grant (5), Grace (4), and a new baby girl, Greenlee (4 months). When he learned he was chosen as Van Horn's new principal, Maglinger was thrilled. "It is with great honor and humility to be named the next principal at Van Horn High School," he said. "My wife and I, along with our children, are very excited to join the Falcon family. Van Horn is a great school and I am looking forward to building relationships with the students, staff and parents. Go Falcons!"
Three Ways to be Involved in School and Community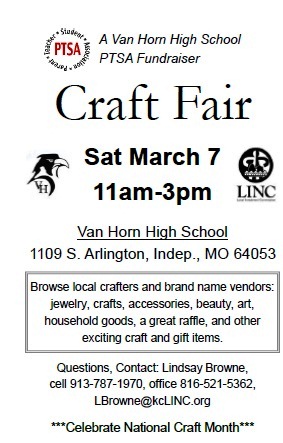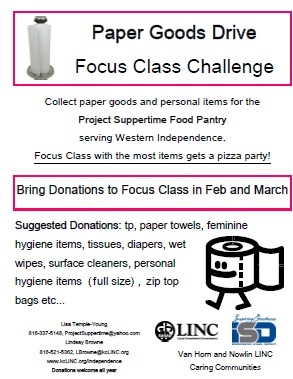 Van Horn Shines in our Community
Van Horn High School established 1955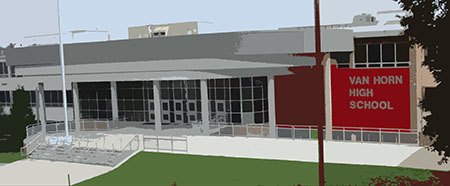 Van Horn opened in 1955 and the first class graduated in 1956. It was originally constructed in 1955 on the site of Honeywood, house of former Civil War era Kansas City mayor, Robert T. Van Horn, a prominent newspaper publisher and statesman.
School Activities Calendar Now Online!
Want to know what's happening with our

Van Horn students?
School Information
1109 South Arlington Avenue Independence, Missouri 64053
Main Line: 816.521.5360
Fax: 816.521.5610
Attendance Line: 816.521.5429
Main Office Hours
Monday-Friday 7 AM - 3:30 PM
School Hours
Doors Open at 7 AM
Classes 7:20 AM - 2:14 PM
Please remember that a picture ID is required for entry into the building. This policy is in effect in order to protect the safety of our students and staff.
Welcome and Mission Statement
The students, faculty, and staff of Van Horn High School welcome you to our learning community. Van Horn High School opened its doors in 1955. At the start of the 2008-2009 school year, Van Horn joined the family of the Independence School District. Independence is committed to ensuring that each graduating class of Falcons fulfills the school motto and all "Dare to Be Wise!"
Our Mission
At Van Horn High School we build positive relationships, achieve high academic standards, and develop literacy in order to engage the world.
Falcon Class of 2015
All dates/events listed are subject to change.