Van Horn High School - Home of the Falcons
Recipients of the Lee Currier Memorial Scholarship
At a small luncheon in the Van Horn Alumni Room on March 26, 2015, Cadets Josh Ramirez and Aja Marshall, both academic seniors in Van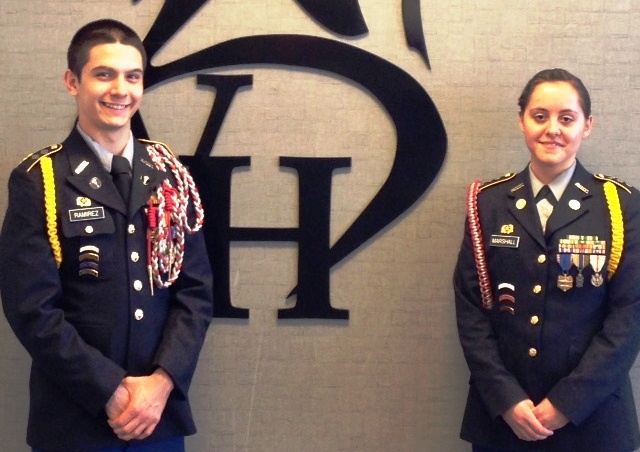 Horn's JROTC program, received the Lee Currier Memorial Scholarship. Each cadet received $1500 toward future college expenses. Cadet Ramirez will attend Truman State and Cadet Marshall will attend the Kansas City Art Institute.
The Van Horn Class of 1964 established this scholarship in memory of their classmate Gordon Leroy "Lee" Currier. Lee graduated Van Horn High School and started college but was drafted into military service. He was assigned to the 981st Military Police (MP) Company at Fort Carson, CO where he trained sentry dogs to patrol and detect explosives and was deployed to Vietnam on December 6, 1967.
On January 31, 1969 —the first day of the Tet Offensive, and exactly one week after his 22nd birthday—Private First Class Lee Currier, accompanied by his canine (K-9) partner, Satch, were guarding a section of the Ammunition Supply Depot at Long Binh, Republic of Viet Nam, when he was overwhelmed by enemy soldiers. During the intensive small arms and mortar firefight both were fatally wounded by enemy fire.
For his valor, PFC Currier was posthumously awarded the Bronze Star, Purple Heart and Good Conduct Medal. In June 2006 the new Gordon Lee Currier Jr. Military Working Dog Kennel at Fort Meade, Maryland was dedicated to memorialize and honor Lee Currier.
Members of the Class of '64 selection committee attending the luncheon (pictured below from left to right) were Betty Jane Stinnett, Carl Doughty, Howard Russell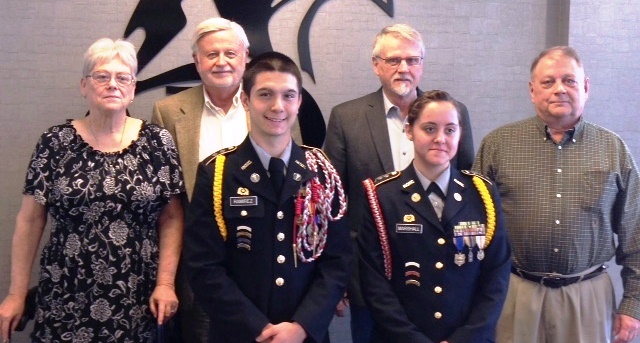 and Joe Currier, younger brother of Gordon Lee Currier. Patrick Layden, Principal of Van Horn and Lieutenant Colonel-Retired Mike Byrd, Senior JROTC Instructor thanked the Class of '64 for showing remarkable confidence and support for these two outstanding graduating student-cadets of the JROTC program. As part of the scholarship application process each cadet had to write a 500 word essay on the topic: "How participation in JROTC helped me be a better citizen."
Van Horn Shines in our Community
Forms and PowerSchool Link
Falcon Class of 2015
All dates/events listed are subject to change.
Van Horn Dates to Remember
Van Horn Cadet Selected as Outstanding Cadet by the Sons of the American Revolution
On Saturday, April 11, 2015, Cadet Nicholas Hickman was presented the Outstanding Cadet award at the regular monthly meeting of the Harry S Truman Chapter of the Sons of the American Revolution (SAR). Cadet Hickman is a member of the Army JROTC program at Van Horn High School in Independence Missouri. The SAR selection process is designed to identify and recognize the outstanding cadet at local, state and national SAR level. Each local chapter makes a single selection from within its area. The selection screening process evaluates the nominated individual's academic performance, community service involvement, leadership skills,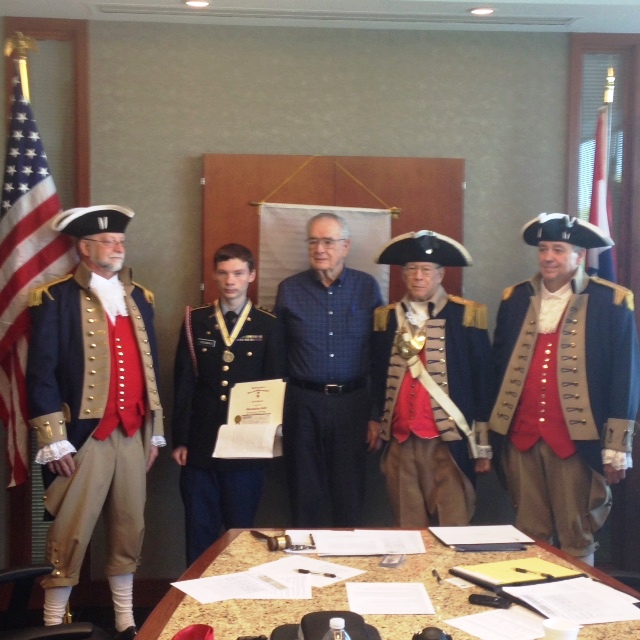 and general "well roundedness". Additionally, each nominee must write and submit a 700 word essay on the topic of "How has JROTC prepared me to be a better citizen of the United States?" Cadet Nick Hickman is currently an academic junior, a third year cadet in the JROTC program at Van Horn and performs duties as the Battalion Adjutant. Hickman upon graduation from high school intends to continue to serve his local community by pursuing a career in law enforcement.
Van Horn students participate in J-Day at MU
On Wednesday, April 8th, journalism students from Van Horn, William Chrisman and Truman traveled to the University of Missouri for J-Day, MU's annual Journalism Day. J-Day included class instruction on new techniques for subjects such as journalism, broadcasting, photography, newspaper and yearbook. With over 1,000 student participants from all over Missouri, MIPA (Missouri Interscholastic Press Association) had a full day planned to keep the students entertained such as a lip-syncing contest and guest speaker Greg Miller (MU graduate) from the popular YouTube channel KindaFunny.com.
At the end of the day students gathered back together for the awards ceremony. With projects submitted by students, each one was reviewed, critiqued and judged. The awards were ranked from highest to lowest in order of: All-Missouri, Superior, Excellent and Honorable Mention.
Van Horn received 30 awards overall with two students receiving the highest of awards. Senior Desirae Batson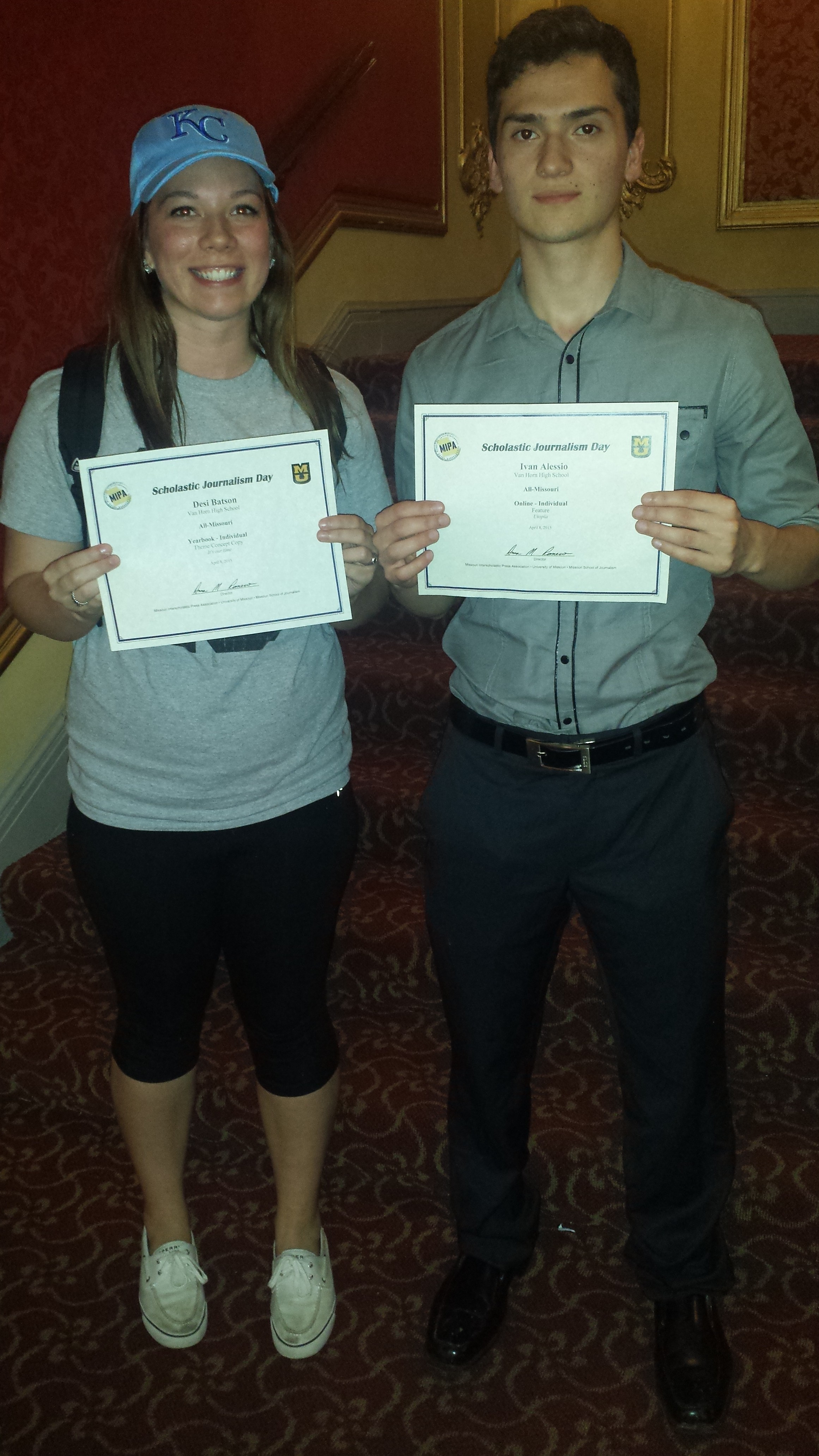 received the All-Missouri award in Yearbook Individual for "It's Our Time" in the Theme/Concept Copy category. Junior Ivan Alessio received the All-Missouri award in Online Individual for "Utopia" in the Feature category.
Van Horn was represented with 18 students and returned home victorious with many awards and recognitions. See the list at J-Day 2015 Winners and Ratings.
Desirae Batson - Yearbook Staff
LINC Kids 4 Cure Cancer Walk - May 2nd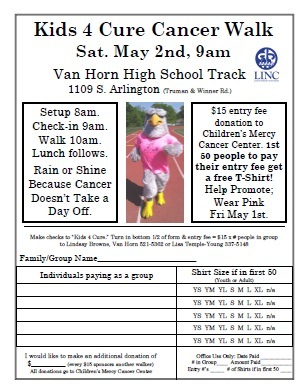 Welcome and Mission Statement
The students, faculty, and staff of Van Horn High School welcome you to our learning community. Van Horn High School opened its doors in 1955. At the start of the 2008-2009 school year, Van Horn joined the family of the Independence School District. Independence is committed to ensuring that each graduating class of Falcons fulfills the school motto and all "Dare to Be Wise!"
Our Mission
At Van Horn High School we build positive relationships, achieve high academic standards, and develop literacy in order to engage the world.
School Activities Calendar Now Online!
Want to know what's happening with our

Van Horn students?
Van Horn High School established 1955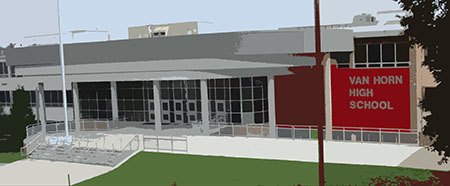 Van Horn opened in 1955 and the first class graduated in 1956. It was originally constructed in 1955 on the site of Honeywood, house of former Civil War era Kansas City mayor, Robert T. Van Horn, a prominent newspaper publisher and statesman.
School Information
1109 South Arlington Avenue Independence, Missouri 64053
Main Line: 816.521.5360
Fax: 816.521.5610
Attendance Line: 816.521.5429
Main Office Hours
Monday-Friday 7 AM - 3:30 PM
School Hours
Doors Open at 7 AM
Classes 7:20 AM - 2:14 PM
Please remember that a picture ID is required for entry into the building. This policy is in effect in order to protect the safety of our students and staff.
College Center
This new webpage created by our College Advisor, Katie Meyer, has a tremendous amount of information including campus visits, scholarship searches and what you should be doing NOW to prepare for your future.
Van Horn Announces a New Principal
Current Van Horn Principal Patrick Layden will move into the role of Director of Student Data Management/Residency. Layden has been with the Independence School District for more than 20 years where he has served as a teacher, learning coach and most recent as the principal of Van Horn High School. He was also awarded the Van Horn High School Teacher of the Year in 2009-2010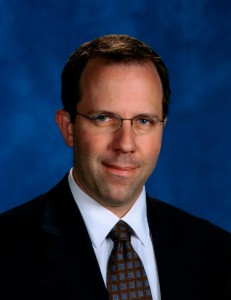 and later named the Independence School District Teacher of the Year. Layden received his bachelor's degree in History/Political Science from Park University, where he also received his master's in Educational Administration. He received his specialist in Educational Leadership from Saint Louis University and is currently pursuing a Doctorate from SLU in the same field. Layden is also a graduate of the Independence School District along with several generations of his family dating back to the 1800s. Speaking about his new role, Layden said, "The opportunity to build a new department centered around better and more efficient customer service for our new and returning parents and students, along with streamlining district and state data processes, is exciting for the potential benefits to our district."
Filling Layden's principal position at Van Horn will be Randy Maglinger. Maglinger currently serves as Assistant Principal at William Chrisman High School. Maglinger, a Chrisman graduate, received his bachelor's degree from the University of Missouri, his master's degree in Liberal Arts from Baker University and his specialist degree in Secondary Leadership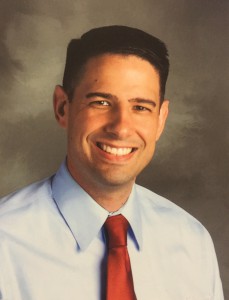 from the University of Central Missouri. Mr. Maglinger is married to Jessica Maglinger, a former second-grade teacher at Sycamore Hills Elementary School. They have three children, Grant (5), Grace (4), and a new baby girl, Greenlee (4 months). When he learned he was chosen as Van Horn's new principal, Maglinger was thrilled. "It is with great honor and humility to be named the next principal at Van Horn High School," he said. "My wife and I, along with our children, are very excited to join the Falcon family. Van Horn is a great school and I am looking forward to building relationships with the students, staff and parents. Go Falcons!"