Van Horn High School - Home of the Falcons
Winter Break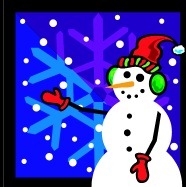 Winter/Semester Break
Monday, December 22nd
through
Tuesday, January 6th
School Activities Calendar Now Online!
Want to know what's happening with our

Van Horn students?
Van Horn Shines in our Community
Van Horn Dates to Remember
Forms and PowerSchool Link
College Center
This new webpage created by our College Advisor, Katie Meyer, has a tremendous amount of information including campus visits, scholarship searches and what you should be doing NOW to prepare for your future.
Madeleine Albright at the Truman Library
Former Secretary of State Madeleine Albright and students from Van Horn High School and William Chrisman High School participated in a 90-minute Q&A session at the Truman Library on Thursday, December 4, 2014. The student forum was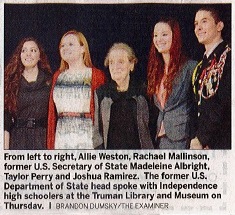 moderated by Van Horn seniors Joshua Ramirez and Taylor Perry and William Chrisman seniors Allie Weston and Rachael Mallinson. Near the end of the session, Ms. Albright remarked "These questions are absolutely amazing. I'm so impressed. I don't think I ever had a better set asked in a very smart way."
Falcon Class of 2015
All dates/events listed are subject to change.
Van Horn High School established 1955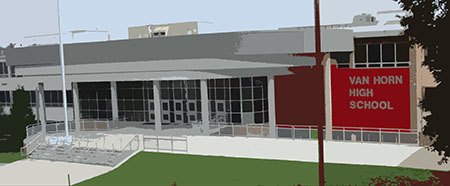 Van Horn opened in 1955 and the first class graduated in 1956. It was originally constructed in 1955 on the site of Honeywood, house of former Civil War era Kansas City mayor, Robert T. Van Horn, a prominent newspaper publisher and statesman.
School Information
1109 South Arlington Avenue Independence, Missouri 64053
Main Line: 816.521.5360
Fax: 816.521.5610
Attendance Line: 816.521.5429
Main Office Hours
Monday-Friday 7 AM - 3:30 PM
School Hours
Doors Open at 7 AM
Classes 7:20 AM - 2:14 PM
Please remember that a picture ID is required for entry into the building. This policy is in effect in order to protect the safety of our students and staff.
Welcome and Mission Statement
The students, faculty, and staff of Van Horn High School welcome you to our learning community. Van Horn High School opened its doors in 1955. At the start of the 2008-2009 school year, Van Horn joined the family of the Independence School District. Independence is committed to ensuring that each graduating class of Falcons fulfills the school motto and all "Dare to Be Wise!"
Our Mission
At Van Horn High School we build positive relationships, achieve high academic standards, and develop literacy in order to engage the world.