Van Horn High School - Home of the Falcons
Van Horn Girl's Basketball on High School Roundup
A segment featuring Van Horn Falcons girl's basketball and Coach Betty Lennox will be on High School Roundup tonight, Friday, January 30th at 10pm on Time Warner Cable SportsChannel.
Time Warner Cable channels 30, 323
Comcast Cable Kansas channels 68, 258, 913 HD
Comcast Cable Missouri channels 44, 258, 913 HD
WOW! Lawrence, KS channels 37, 226 HD
Van Horn's Annual Blood Drive
JROTC and our Community Blood Center team up for Van Horn's Annual Blood Drive on Tuesday, February 3rd from 8:00 a.m. to 1:00 p.m. in the foyer of the auditorium. Sign ups are taking place in the cafeteria during lunch.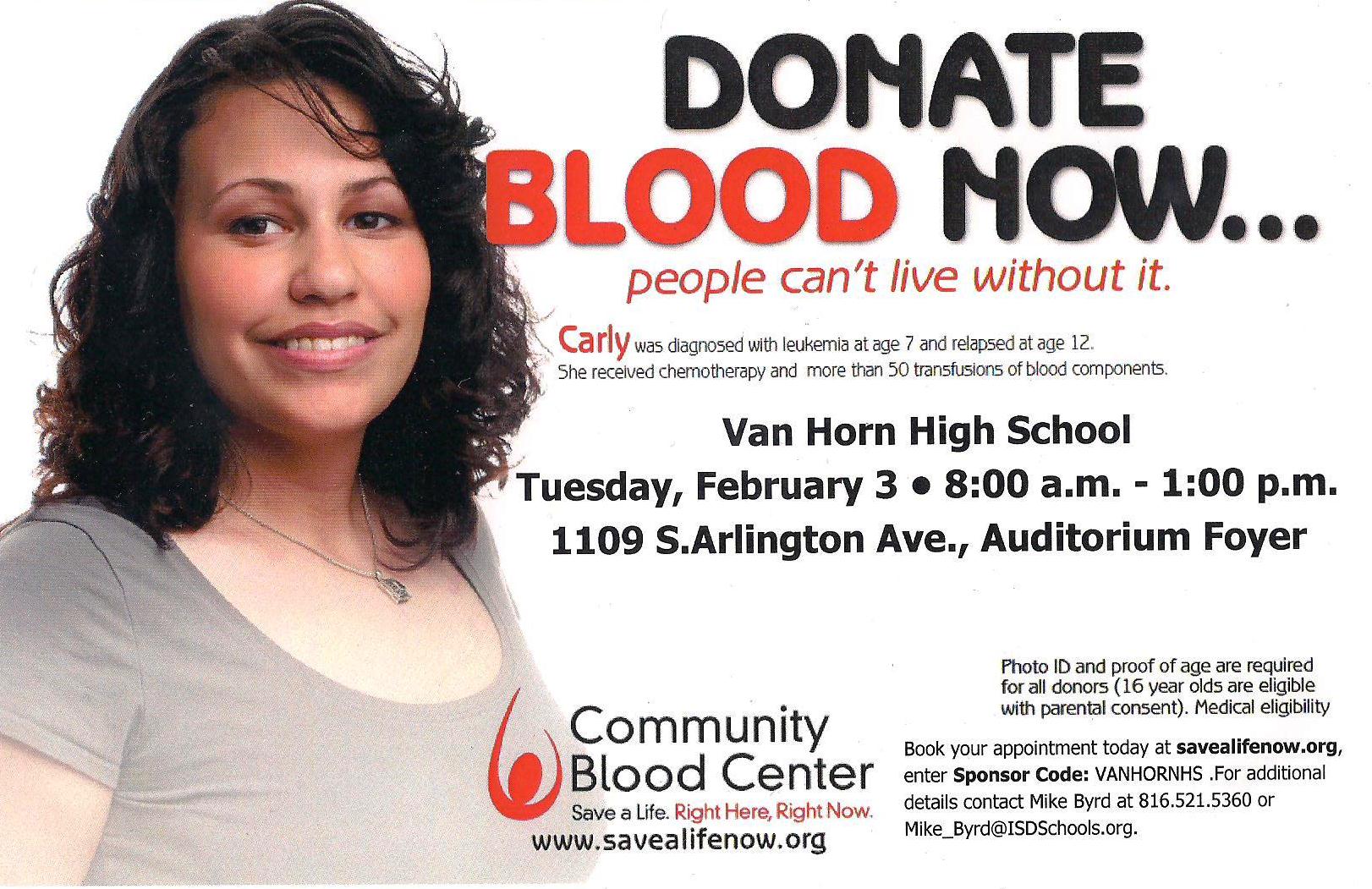 Van Horn Wrestling - Crossroads Conference Champions
For the third straight year, the Van Horn wrestling team can call itself Crossroads Conference champion.
The Falcons dominated Summit Christian Academy 78-6, Sherwood 72-6 and Butler 66-15 to claim the league title Thursday night.
"We had the benefit of the other teams not having a full lineup, but I don't think that takes away from the fact that I thought our kids wrestled really well tonight," Van Horn coach Jeff Tolbert said.
Tyler Horton (160 pounds) led the way for the Falcons with two first-period pins and a forfeit. Jacob Burch (132), Avery Crocker (152) and Marcos Murphy (106) also went 2-0 with a pair of pins and a forfeit in the three dual matches.
The Falcons improved to 12-2 overall in dual matches.
By The Examiner staff
Posted Jan. 30, 2015 at 12:01 AM
School Activities Calendar Now Online!
Want to know what's happening with our

Van Horn students?
Van Horn Shines in our Community
Van Horn Dates to Remember
Forms and PowerSchool Link
College Center
This new webpage created by our College Advisor, Katie Meyer, has a tremendous amount of information including campus visits, scholarship searches and what you should be doing NOW to prepare for your future.
Van Horn Announces a New Principal
Current Van Horn Principal Patrick Layden will move into the role of Director of Student Data Management/Residency. Layden has been with the Independence School District for more than 20 years where he has served as a teacher, learning coach and most recent as the principal of Van Horn High School. He was also awarded the Van Horn High School Teacher of the Year in 2009-2010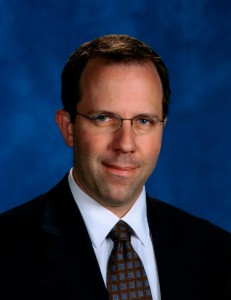 and later named the Independence School District Teacher of the Year. Layden received his bachelor's degree in History/Political Science from Park University, where he also received his master's in Educational Administration. He received his specialist in Educational Leadership from Saint Louis University and is currently pursuing a Doctorate from SLU in the same field. Layden is also a graduate of the Independence School District along with several generations of his family dating back to the 1800s. Speaking about his new role, Layden said, "The opportunity to build a new department centered around better and more efficient customer service for our new and returning parents and students, along with streamlining district and state data processes, is exciting for the potential benefits to our district."
Filling Layden's principal position at Van Horn will be Randy Maglinger. Maglinger currently serves as Assistant Principal at William Chrisman High School. Maglinger, a Chrisman graduate, received his bachelor's degree from the University of Missouri, his master's degree in Liberal Arts from Baker University and his specialist degree in Secondary Leadership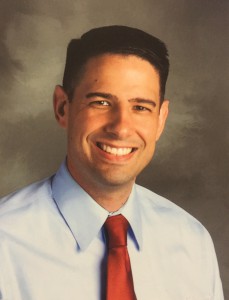 from the University of Central Missouri. Mr. Maglinger is married to Jessica Maglinger, a former second-grade teacher at Sycamore Hills Elementary School. They have three children, Grant (5), Grace (4), and a new baby girl, Greenlee (4 months). When he learned he was chosen as Van Horn's new principal, Maglinger was thrilled. "It is with great honor and humility to be named the next principal at Van Horn High School," he said. "My wife and I, along with our children, are very excited to join the Falcon family. Van Horn is a great school and I am looking forward to building relationships with the students, staff and parents. Go Falcons!"
Van Horn Caring Communities
Here are two great short videos on Van Horn that were shown at the LINC Commission meeting on Monday, January 26, 2015.
Check them out!
FAST Families And Schools Together
Students trip to see Motown the Musical
Missouri Class IV Assistant Baseball Coach of the Year
Van Horn High School assistant coach, Richie Shust,
recently received the Missouri Class IV Assistant Baseball Coach of the Year. The award was presented on January 16, 2015, at the Annual Missouri High School Baseball Coaches Association. Mr. Shust is a PE/Health teacher at Nowlin Middle School.
Polar Plunge 2015 for Special Olympics
If you would like to make online donations go to http://somo.kintera.org/faf/r.asp?t=3&i=1120095
Van Horn High School established 1955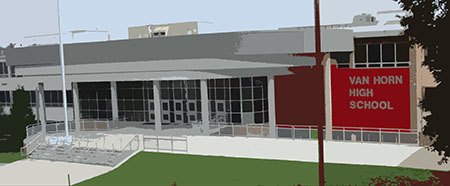 Van Horn opened in 1955 and the first class graduated in 1956. It was originally constructed in 1955 on the site of Honeywood, house of former Civil War era Kansas City mayor, Robert T. Van Horn, a prominent newspaper publisher and statesman.
School Information
1109 South Arlington Avenue Independence, Missouri 64053
Main Line: 816.521.5360
Fax: 816.521.5610
Attendance Line: 816.521.5429
Main Office Hours
Monday-Friday 7 AM - 3:30 PM
School Hours
Doors Open at 7 AM
Classes 7:20 AM - 2:14 PM
Please remember that a picture ID is required for entry into the building. This policy is in effect in order to protect the safety of our students and staff.
Welcome and Mission Statement
The students, faculty, and staff of Van Horn High School welcome you to our learning community. Van Horn High School opened its doors in 1955. At the start of the 2008-2009 school year, Van Horn joined the family of the Independence School District. Independence is committed to ensuring that each graduating class of Falcons fulfills the school motto and all "Dare to Be Wise!"
Our Mission
At Van Horn High School we build positive relationships, achieve high academic standards, and develop literacy in order to engage the world.
Falcon Class of 2015
All dates/events listed are subject to change.