GRADUATION 2016
Graduation 2016
First of all, the Van Horn Administration wants to congratulate the Seniors who will be graduating on May 21st. We wanted to provide a list of reminders to help you plan for this week's upcoming events.
Tuesday, May 17th
Graduation Practice – Graduates are required to attend the grad practice on Tuesday. You will be served breakfast in the cafeteria and we will load the buses and head over to the Community of Christ Auditorium. You will receive a bundle of 10 grad tickets at grad practice. You do not need your Cap and Gown on Tuesday.
Decision Day Assembly – We have a variety of activities planned for the Decision Day Assembly. The Assembly is also your chance to see the Senior video.
Grad Tickets – As stated before, graduates will receive a bundle of 10 tickets at grad practice. If additional tickets are needed, then graduates will have a chance on Tuesday to get additional tickets at the end of the school day. Directions will be given on Tuesday.
Wednesday, May 18th
Cap and Gown are needed for the events on Wednesday.
Graduate Walk – We are hoping to establish a new tradition between Van Horn and our feeder elementary schools. Seniors will dress in their caps and gowns and will have a mock graduation walk in the halls of Three Trails, Mallinson and Sugar Creek. Please get your permission slips signed and turned into Ms. Tempel.
Baccalaureate – We would like to see a strong representation of graduates at this event. Baccalaureate is a religious service with a farewell sermon to the graduating class. This is an optional event. If you are participating, wear your cap and gown and arrive at St. Mark's Catholic Church on Lee's Summit Road at 6:30PM. Seniors will meet at 6:30 to get into position and the ceremony will start at 7PM.
Saturday, May 21st
Graduation – Graduates will arrive at the Community of Christ Auditorium at 12:45PM. Enter the West Doors (we'll show you during grad practice) and report to the assembly room downstairs. The doors will open at 1:15PM for the public. The public must have a graduation ticket in order to attend the ceremony. The graduation ceremony will start at 2PM.
Project Grad – Project Grad will be at Paradise Park. Buses will be leaving Van Horn at 8:45PM and will be coming back to Van Horn by 1:30AM. Tickets are $10 for Seniors attending and $10 for any guest. Tickets must be purchased by the end of the school day on Monday, May 16th. Guests must be either a current Junior or an individual from the Class of 2015.
Graduates, congratulations on your accomplishments. I'm looking forward to next week's events. As you transition through these farewell events, take time to reflect on the wonderful memories you made. at Van Horn and also on the great things you will pursue after graduation. Congratulations, I'm proud of you!
Sincerely,
Mr. Maglinger
Jamboree for The Academies of ISD - Wednesday, January 20th 6-8 pm at Van Horn High School
The evening Jamboree will be a continuation of the Daytime Jamboree but with more…..
Business Partners will join our Academy tables in the cafeteria.

Global classes will have tables throughout the atrium displaying their information.

Core class teachers will each have an assigned topic, and will share that information with parents at displays set up for individual conversations/Q&A's
For a complete breakdown and explanation of the Academies please go to the link below.
For information regarding core class enrollment requirements, please watch the video link below.
For information regardingHigh School graduation requirements and college admission requirements, please go to the link below.
TORNADO PROCEDURES
During severe weather, school personnel will be monitoring conditions through local news reports and the National Weather Service. Each school is equipped with radios for scanning the National Weather Service. All schools conduct tornado drills with students at least twice a year to ensure they are aware of procedures.
Tornado Warning
Students and staff will move to designated safe places and proceed into the precautionary duck and cover position.

Please refrain from coming to school to pick up your child during a tornado warning as staff will be keeping students safe and unable to respond to parent requests.

Students will not be dismissed from school while the area is under a tornado warning.

Students will be held at school and buses will not be allowed to transport students until the tornado warning has been lifted and the all clear is given.
Communication Procedures
Phones may not be answered during a tornado warning, as students and staff will be in the precautionary duck and cover position.

Parents will be notified via the SchoolMessenger notification system of any changes in transportation, as well as school delays associated with a tornado warning.

The ISD will share updates via the District website and ISD Facebook and Twitter as soon as information becomes available.
Forms and PowerSchool Link
Van Horn Seniors
As you progress through your senior year, remember this information.
College Center
This new webpage created by our College Advisor, Katie Meyer, has a tremendous amount of information including campus visits, scholarship searches and what you should be doing NOW to prepare for your future.
Apply Missouri
Apply Missouri - Helping students find the best fit for higher education. Van Horn's goal is to have each senior apply to at least one college before the end of the month of October!
This is Van Horn's third year participating in Apply Missouri! Over the course of the month, there will be activities to help create a college going culture with underclassmen, assist seniors and parents with the college going process, and generate excitement and engagement among students about their future after high school.
For more information - Apply Missouri
A+ Scholarship Program
The A+ Program is a scholarship program through the Missouri Department of Higher Education. You can find complete information from the Missouri Department of Higher Education at http://dhe.mo.gov/ppc/grants/aplusscholarship.php
For ISD specific information and forms
For a list of 4 year institutions that take A+ check out
A+ Program on our College Center Website
Van Horn High School
1109 S. Arlington Avenue
Independence, MO 64053

Phone: 816.521.5360
Fax: 816.521.5610

Principal: Randy Maglinger
School Times: 7:20am-2:14pm
Quick Links
Click HERE for Counseling Center and Enrollment Information.
Click HERE to go to the Library Media website.
Welcome and Mission Statement
The students, faculty, and staff of Van Horn High School welcome you to our learning community. Van Horn High School opened its doors in 1955. At the start of the 2008-2009 school year, Van Horn joined the family of the Independence School District. Independence is committed to ensuring that each graduating class of Falcons fulfills the school motto and all "Dare to Be Wise!"
Our Mission
At Van Horn High School we build positive relationships, achieve high academic standards, and develop literacy in order to engage the world.
Van Horn Shines in our Community
To see photos and articles from previous years check out
Highlights 2013-2014
Van Horn High School established 1955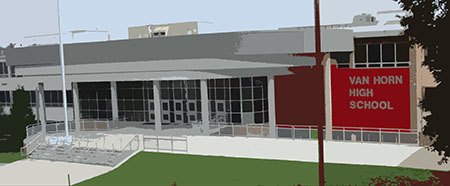 Van Horn opened in 1955 and the first class graduated in 1956. It was originally constructed in 1955 on the site of Honeywood, house of former Civil War era Kansas City mayor, Robert T. Van Horn, a prominent newspaper publisher and statesman.
School Information
1109 South Arlington Avenue Independence, Missouri 64053
Main Line: 816.521.5360
Fax: 816.521.5610
Attendance Line: 816.521.5429
Main Office Hours
Monday-Friday 7 AM - 3:30 PM
School Hours
Doors Open at 7 AM
Classes 7:20 AM - 2:14 PM
Please remember that a picture ID is required for entry into the building. This policy is in effect in order to protect the safety of our students and staff.