One School, One Book
One School, One Book is part of Read to Them, a non-profit organization promoting family literacy.
To learn more about the "Read to Them: One School-One Book Project" please visit http://www.readtothem.org/.
Zoey and Sassafras: Dragons and Marshmallows Nightly Recordings
Click on the chapter below to listen to a teacher read while you follow along in your book. Happy Reading!
About Zoey and Sassafras Series...
In the first book of this series, Zoey discovers a glowing photo and learns an amazing secret. Injured magical animals come to their backyard barn for help! When a sick baby dragon appears, it's up to Zoey and Sassafras to figure out what's wrong. Will they be able to help little Marshmallow before it's too late?
Let us me the Author and Illustrator...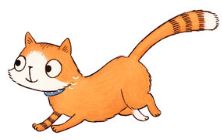 Asia Citro used to be a science teacher, but now she plays at home with her two kids and writes books. When she was little, she had a cat just like Sassafras. He loved to eat bugs and always made her laugh (his favorite toy was a plastic human nose that he carried everywhere). Asia has also written three activity books:

150+ Screen-Free Activities for Kids

,

The Curious Kid's Science Book

, and

A Little Bit of Dirt

. She has yet to find a baby dragon in her backyard, but she always keeps an eye out, just in case.

Marion Lindsay is a children's book illustrator who loves stories and knows a good one when she reads it. She likes to draw anything and everything but does spend a completely unfair amount of time drawing cats. Sometimes she has to draw dogs just to make up for it. She illustrates picture books and chapter books as well as painting paintings and designing patterns. Like Asia, Marion is always on the lookout for dragons and sometimes thinks there might be a small one living in the airing cupboard.
Previous One School, One Book Titles

2012-2013

2013-2014

2014-2015

2015-2016


2016-2017


2017-2018

2018-2019
?
2019-2020