Welcome to the Academies of the ISD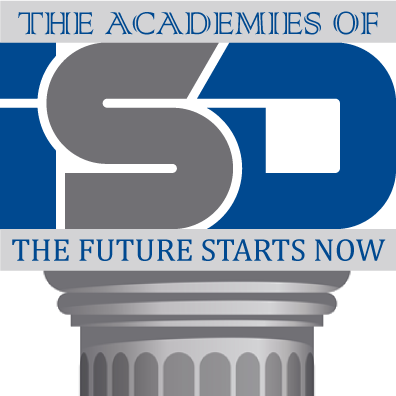 Welcome to the Academies of ISD! The Academies are personalized small learning communities within each of our high schools guiding students toward success in their chosen career. Students get to choose their Academy based on the ten-year-plan they create as freshmen. Students are able to complete academy requirements within the regular school day, with the possible exception of some internships.
A College and Career Academy involves teachers from different subjects working together as a team. Team members have shared planning time and will work together to make sure students' classes are complementary and all focused on reaching the same career goal. They also will spend time in area businesses to ensure their teaching matches with what the workplace demands.
We plan to give students an advantage over their peers in many ways: offering a large number of courses for college credit, creating job shadow and internship opportunities, and preparing students for professional certifications.
Career Academies have been shown to improve classroom engagement as students are seeing the relevance of what they're learning and how it will apply to their chosen field. Career Academy students show higher attendance rates, better grades, and fewer discipline issues.
The ISD is moving into the future and taking students with us. We ARE inspiring greatness.
In the Classroom
Each Academy includes students who take classes together taught by a team of teachers from various subjects. Students and staff will build important relationships as a part of Academy teams.
This structure will help facilitate the Four Cs:
Communication: Unlimited opportunities are present for communicating and showcasing different ways of thinking.
Collaboration: Students learn to collaborate with others in a variety of ways.
Critical Thinking: Students engage in learning experiences that require depth and complexity of thinking to analyze and evaluate.
Creative Thinking: Students will examine and evaluate ideas from different perspectives, think in new directions, and synthesize information in useful ways.
Advantages for Students
| | | | |
| --- | --- | --- | --- |
| Students will be learning information and skills that will apply directly to their chosen career | Students will be able to see the relevance of what they are learning | Students will gain "real world" experience in job shadows, capstone projects and/or internships | Students will make connections with potential future employers |
| Students can gain professional certifications before graduation | Students will have a distinct advantage over others their same age when applying for college or a job | Student classroom engagement increases | |
Everyone Benefits from Career Academies
Teachers
Teachers will become a part of a teaching team
Teams meet weekly to plan together
Teachers take part in business externships
Teaching becomes more relevant
Classrooms become more project-based
Business Partners
Create systems that produce their "model employee"
Can see future employees at work
Receive a fresh perspective regarding their business
Community
​Workforce trained with today's skills more likely to entice industry considering locating in the metro
Business already located here will not have to look any further than their own city for qualified workers
Families considering relocation will have even more reason to move to Independence
Could easily affect employment rate as ISD students have a plan for their future and the skills and connections to secure a job
Sign-up Now:
Join the team by helping to transform our community one student, one relationship at a time. Sign-up now to be a Business Partner in this great experience:
Current Business Partners